• On This Day In Pro Wrestling History (September 2, 1992) – WCW Clash Of The Champions XX: 20th Anniversary
On this day in Pro Wrestling history on September 2, 1992, Ted Turner's World Championship Wrestling aired 'WCW Clash Of The Champions XX: 20th Anniversary' LIVE on TBS from the Center Stage Theater in Atlanta, Georgia.
The show wasn't just the 20th Anniversary of the 'Clash of the Champions' events, but also marked 20 years of pro wrestling shown on TBS, starting with NWA Mid-Atlantic Wrestling (Jim Crockett Promotions) in 1972.
This was the last time André The Giant was seen on american television, before he passed away a few months later.
The results can be found here:
– No DQ – WCW World Television Championship: Ricky Steamboat defeated Steve Austin (c)
– Arn Anderson and Bobby Eaton defeated Dick Slater & Greg Valentine
– WCW World Heavyweight Championship: Ron Simmons (c) defeated Cactus Jack
– The Barbarian & Butch Reed defeated Barry Windham & Dustin Rhodes
– Elimination: Rick Rude, Jake Roberts, Super Invader & Big Van Vader defeated Sting, Nikita Koloff & The Steiner Brothers
• Batista Impressed With Dana Brooke's Buns, Dana Responds
WWE RAW wrestler Dana Brooke posted a photo on Instagram and former WWE Champion Batista made an interesting comment under the post.
Below is Dana's Instagram post:
Below is the exchange between Batista & Dana:
Batista: "?#ass… just sayin!!!! Just a friendly observation from your boy! ??‍♂️?"
Dana: "heard you were cinn-a-BUNS guy ? … gotta keep up ? n keep ya happy ?? I'm servin' em all day stacked ?"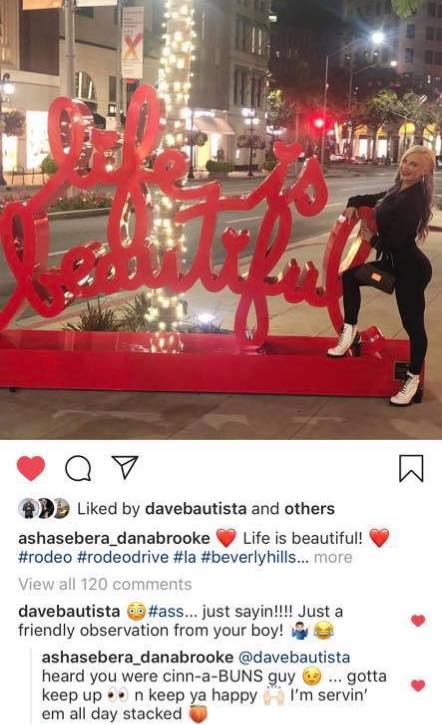 Also Read: Batista Makes An Interesting Comment After Looking At Sasha Banks' A$$
WATCH: Torrie Wilson Exposes Her Super Hot Buns: