• Bret Hart Claims Jake Roberts Tried To Trick Undertaker At WrestleMania 8
On episode 26 of Confessions Of The Hitman, 2-time WWE Hall Of Famer Bret 'The Hitman' Hart went in detail about Jake 'The Snake' Roberts, as Roberts had taken a shot at his and Shawn Michaels' WWF Championship reigns earlier this year.
He claimed that Roberts didn't want to put anyone over, and at WrestleMania 8, The Undertaker was supposed to defeat him via pinfall in the ring, but Roberts told him to hit him with a Tombstone Piledriver outside the ring so that he won't have to be pinned.
Here's what Bret said:
"Jake Roberts is one of those guys who never passed the torch to anybody. He never made anybody but himself. So where was Jake Roberts when guys like me or Shawn Michaels needed somebody to pass the torch like what Roddy Piper did for me? Why was Jake Roberts never there for anyone else? He was only there for himself.
[Roberts] was a sneaky kind of guy in the ring. [Roberts] was supposed to put over Undertaker at WrestleMania – I think it was WrestleMania 8 in Indianapolis [Indiana] – and [Roberts] called something, an audible in the match, and had Undertaker do his finish on the floor.
Undertaker didn't know what to do. He was still kind of green in those days, and he was listening and trusting Jake. And Jake ended up getting counted out on the floor so he wouldn't have to actually go in the ring and put [Undertaker] over. And then, [Roberts] was fired. He was fired from the company."
For those that don't remember, Undertaker actually pinned Roberts in the ring (after hitting the Tombstone Piledriver outside the ring) at WrestleMania 8.
Also Read: Bret Hart Fires Back At Jake Roberts For Being Jealous Of Him & Shawn Michaels
WATCH: Sara (Undertaker's Ex-Wife) In Bikini – Part 1:
You can download our official WrestleFeed mobile app to check out more Wrestling news & Divas content. Tap here to download.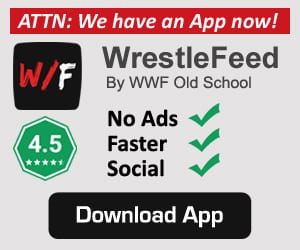 • Old School WCW Veteran Celebrates His Birthday
Old School WCW Veteran Charlie Norris celebrates his 55th birthday today.
The Native American from the Red Lake Indian Reservation originally wrestled for his home promotion, PWA Pro Wrestling America, between 1989 and 1996, except for 1993 where Charlie Norris left and joined Ted Turner's World Championship Wrestling promotion for a couple of months.
During his time in WCW, he didn't have any memorable feuds, nor achieved any notable success.
HAPPY BIRTHDAY CHARLIE NORRIS!