• Chris Jericho On If AEW Signs Too Many Ex-WWE Stars
Old School WWF Legend Chris Jericho appeared on an episode of the 'Rasslin with Brandon Walker' podcast, where he – among other things – discussed his current promotion All Elite Wrestling signing too many former WWE wrestlers.
Let's keep in mind that such complaints ("signing too many WWE wrestlers") usually come from the IWC Smark circles, where they falsely believe that a company full of only indy wrestlers could survive on the big screen on National TV and pay-per-view, a legitimate misconception that has long been confirmed to be wrong by pretty much everyone in the industry.
In 2021, most people have realized that professional wrestling is a business and in order for a major promotion like AEW to survive and do well on TV & PPV, as well as for their home-made wrestlers to grow in popularity among fans, it's actually required to have famous big names on the show every night, which these days means former WWE Superstars (as most Ex-WCW/NWA & Ex-ECW stars are retired or too old to wrestle a full-time schedule).
Here's what Y2J said regarding this topic:
"I've enjoyed every minute of it because it was a real risk to go to AEW, and we all knew it, but for me, I knew what would happen if I went back to WWE, because I wasn't there at the time, I don't know if I would have wanted that, but the fact that AEW was a big challenge, and if you look at the first three months of Dynamite, it was resting on my shoulders because I was the most recognizable name on that show besides Jim Ross, who you hear his voice, but you don't see him a lot.
And I knew it was my job to make sure that people saw how good Cody was, and The Young Bucks, and Kenny and Darby, and Scorpio Sky and all these guys that I worked with, Jungle Boy, in the first two or three months of that show. I wanted people to see, as quickly as possible, how good these guys are, all the guys in The Inner Circle, Santana, Ortiz, Sammy, Jake Hager. So I tried to put as many people around me as possible so that people would see these guys are really good.
It's not just about Chris Jericho and then the fans were great, and Tony Khan was very smart and also very liberal with his ideas, allowing the professionals to be professionals, to come up with their own stuff and go and execute it, and I think all that stuff happened to where three months in, we got a huge television deal from TNT that basically kept us going and here we are kind of reaching the end of the pandemic, God willing, probably bigger now than we've ever been.
I think there might have been a slight, slight dip in TV ratings but not in the demo, and I know just being able to hold onto that with great storytelling and building more characters, as soon as we're allowed to start having fans come in and go back on the road, I think our company is going to go right back to just blowing everybody away in terms of attendance as well. So yes things have gone as far as I expected. No one expected a worldwide pandemic but I think in the midst of it, we've done a great job providing very entertaining, well told stories and gotten a lot of guys and girls over in the process.
It's funny because some people are like, 'Well, you can't sign all these WWE castoffs or the guys from that generation,' and we really haven't, when there was a big purge last year when they let a bunch of people go, I don't think we hired any of those guys and nothing against them. But a guy like Big Show transcends that. He's one of the most recognizable pro wrestlers in the world, and when you're dealing with a new company, because it's only been a year and a half, and if we want to try and go get a TV deal in India for example, who's on the show, Chris Jericho. We know him. Sting, I know him. Paul Wight. Oh, really? We know him.
Same thing as I said before, those are the guys that can open the door to get people's eyeballs on Kenny Omega, and The Young Bucks, and Darby, and Cody, and Ricky Starks etc, etc, etc. So he is super valuable, and also, he has the one thing that you can't teach. Well, two things obviously. You can't teach someone to be a giant, but you can't teach someone experience, and Paul's got almost as much experience as I do, probably 25 years at this point.
We've got a lot of big guys on our roster who need to think more like big guys. Paul can help with that. Paul can also be very funny. He's very charming, and I know more than anybody. A motivated Big Show, a motivated Paul Wight is very dangerous. He doesn't have to wrestle every week nor should he, but when he gets the call, and he wants to be there and he wants to prove what he can do, he's one of the best big men workers that's ever lived. So he's got that side of the coin as well. He's a great sign for AEW, and I think anybody that doesn't know for sure will have their minds changed very, very quickly."
Also Read: "These are guys that were insulted in their WWE runs" – Chris Jericho On Sting & Big Show
WATCH: Miss Kitty Exposes Herself At WWF Armageddon 1999:
You can download our official WrestleFeed mobile app to check out more Wrestling news & Divas content. Tap here to download.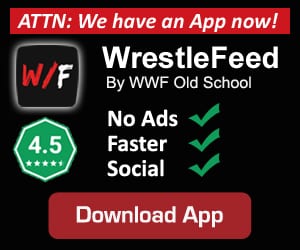 • OLD SCHOOL VIDEO HISTORY (March 4, 1991) – UWF Fury Hour
On this day in 1991, Herb Abrams´ Universal Wrestling Federation aired an episode of their weekly TV show 'UWF Fury Hour'.
This episode was pre-taped on February 15th, 1991 at the Penta Hotel in New York City, New York.
Craig DeGeorge & Bruno Sammartino were doing commentary for the show.
The card can be found below:
– Steve Williams vs. Carmine Albano
– Ask the Wrestlers feat. Steve Ray
– Wet N' Wild (Sunny Beach & Steve Ray) vs. The Power Twins
– Capt. Lou's Corner w/Cactus Jack
– B. Brian Blair vs. Bob Orton Jr.