• On This Day In Pro Wrestling History (April 20, 1997) – WWF In Your House 14: Revenge of the 'Taker
On this day in Pro Wrestling history on April 20, 1997, the World Wrestling Federation aired 'WWF In Your House 14: Revenge of the 'Taker' LIVE on PPV from the Rochester Community War Memorial in Rochester, New York.
This was the 14th out of 28 WWF In Your House pay-per-views that aired between 1995 and 1999.
Below are the results:
– WWF Tag Team Championship: The Legion of Doom defeated Owen Hart & The British Bulldog (c) via DQ
– WWF Intercontinental Championship: Savio Vega defeated Rocky Maivia (c) via count-out
– Jesse James defeated Rockabilly
– WWF World Heavyweight Championship: The Undertaker (c) defeated Mankind
– #1 Contender match: Stone Cold Steve Austin defeated Bret Hart via DQ
WATCH: Nikki Bella In A Tub Wearing Nothing:
• CM Punk Takes A Shot At WWE While Revealing Why He Won't Start A Podcast
Former WWE Champion and new RAW Superstar Rey Mysterio recently posted the following on Instagram:
"Punk-Vs-Eddie-Vs-Rey
What a throwback pic!
Never would of imagined how our destinies would turn out after this night! #RIP?#MissYouEddie #MissYaPunk"
CM Punk commented the following under this post:
"People should know how good Eddie really was. He was in a rough spot. Recently fired, home front was turbulent. He came to this show and looked tired. Said to me 'I hate three ways. If it's okay with you, can you and Rey put something together and just call it to me?' I wasn't sure that was possible. He didn't miss a beat.
And you Rey, so open and giving to a little punk Indy kid. You laid out a masterpiece and I wasn't sure I could keep up. One of the early times I remember being in the ring and thinking to myself, 'this is f***ing MAGIC!' A pleasure. An honor.
I miss Eddie, truly fortunate to have worked him as many times as I did. I feel the same about you Rey! Legends, who treated me like an equal, and I've never forgotten it. Viva la raza!"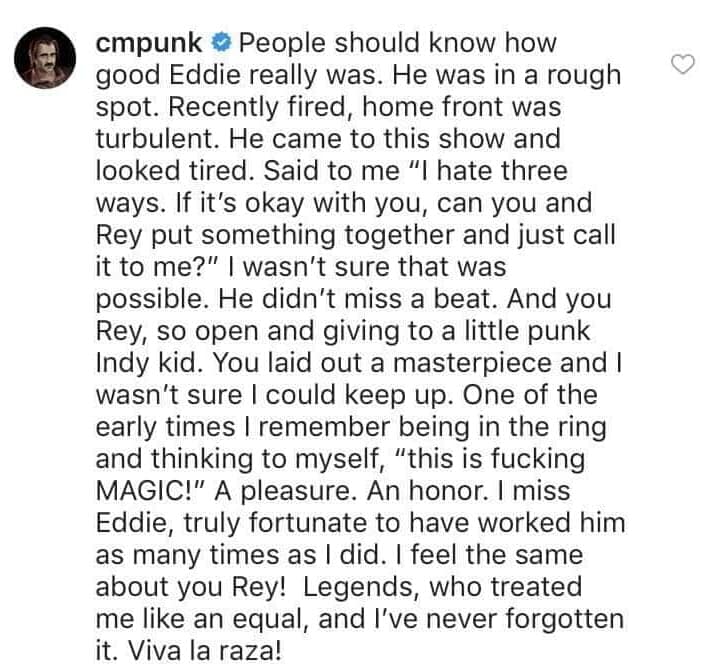 This led to a fan posting the following on Instagram and then asking Punk to start a podcast:
The final post from Punk on his LiveJournal, the day Eddie died, almost 15 years ago. pic.twitter.com/MGZ3SxBfp6

— Danny (@dajosc11) April 19, 2019
+1 punk we need these stories RT @RealLifeKaz: Please, please start a podcast @CMPunk https://t.co/X2r6RcoY9C

— DJ Folk (@DJFolk) April 19, 2019
This led to Punk taking a shot at WWE doctor Chris Amann, WWE (they bankrolled Amann's lawsuit against Punk) and Colt Cabana (who ended up suing Punk as well):
So more lying snakes and unethical fugazis can sue me for telling the truth? Hard pass. ??‍♀️ https://t.co/vH9sY7PgrU

— Coach (@CMPunk) April 19, 2019
Also Read: CM Punk Reacts To A Guy Shaming Him For Competing In BJJ Tournament