• Old School ECW Legend Celebrates His Birthday
Old School ECW Legend "The Franchise" Shane Douglas (Real name: Troy Martin) celebrates his 54th birthday today.
Shane's biggest moment came in 1994 when he turned down the NWA World Heavyweight Championship, that he had just won in a tournament final. That was the night NWA Eastern Championship Wrestling turned into Extreme Championship Wrestling.
He wrestled for them from 1993 until 1995 and from 1996 till 1999, but also worked for the World Wrestling Federation (1986, 1990-1991 & 1995), World Championship Wrestling (89-90, 92-93 & 99-01) and Total Nonstop Action (2003-2007).
During his 1995 WWF stint, he received a teacher gimmick and was called 'Dean Douglas'.
HAPPY BIRTHDAY SHANE DOUGLAS!
• ECW Legend Explains Why He Wished Death On Jim Ross
As we noted before, WWE Hall of Famer Jim Ross revealed on Twitter that he suffered a little accident. Below is a graphic image he posted on his Twitter account:
Took a bad bump last night. The concrete went over.

Still going to @OU_Football tonight. #BoomerSooner pic.twitter.com/7Hl506SrQ6

— Jim Ross (@JRsBBQ) November 17, 2018
Apparently ECW Legend Sabu isn't a fan of Good Ol' JR and had some harsh things to say about Jim Ross after this accident.
Below is what Sabu replied to JR's tweet:
"He's a pu$$ a$$ f*g
And a all-around as hole so f*** u Jim Ross – hope u die. U f***ing d*ckhead. C*ck eater. two face c*nt wwe f*** boy"
Below is a screenshot: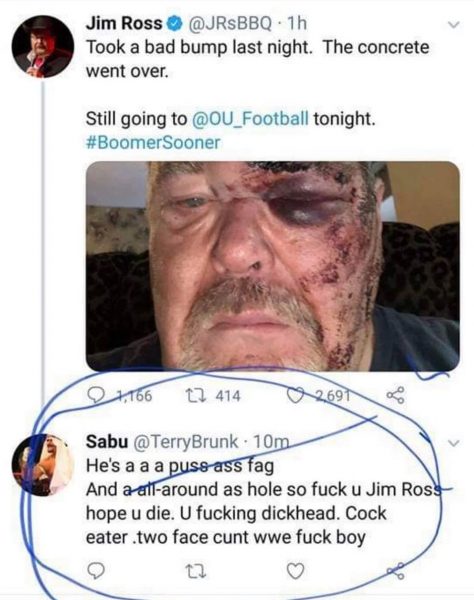 Natalya was concerned about JR's health and tweeted to him. Sabu replied the following to Natalya's tweet:
"F*ck him you should see what he say behind your back . he is two faced b*tch . don't trust him Bret knows . he a 3 face assho."
Sabu then explained in another post why he has a beef with JR. You can read it below (it might be a little hard to read, but you can still get what he's trying to say):
"Why I have beef with Jim Ross?
In 1988 the NWA called my uncle to wrestle in Det. At cobo hall they offered him 10% of the gate or half the gate which ever was the greater the gate drew $200,000.
They gave $10,000 they owe him $100,000. It was him and Dusty's call to give him 10k. They or Jim Ross owes my family $90,000 so f*ck him f*ck him f*ck Jim Ross i hope he choked on it. I hope he comes near me so I punch his other eye. The next time NWA came to Cobo they drew $40,000 without him on the show.
So f*ck him. He didn't fall down he got his a** kicked by a chick with a d*ck."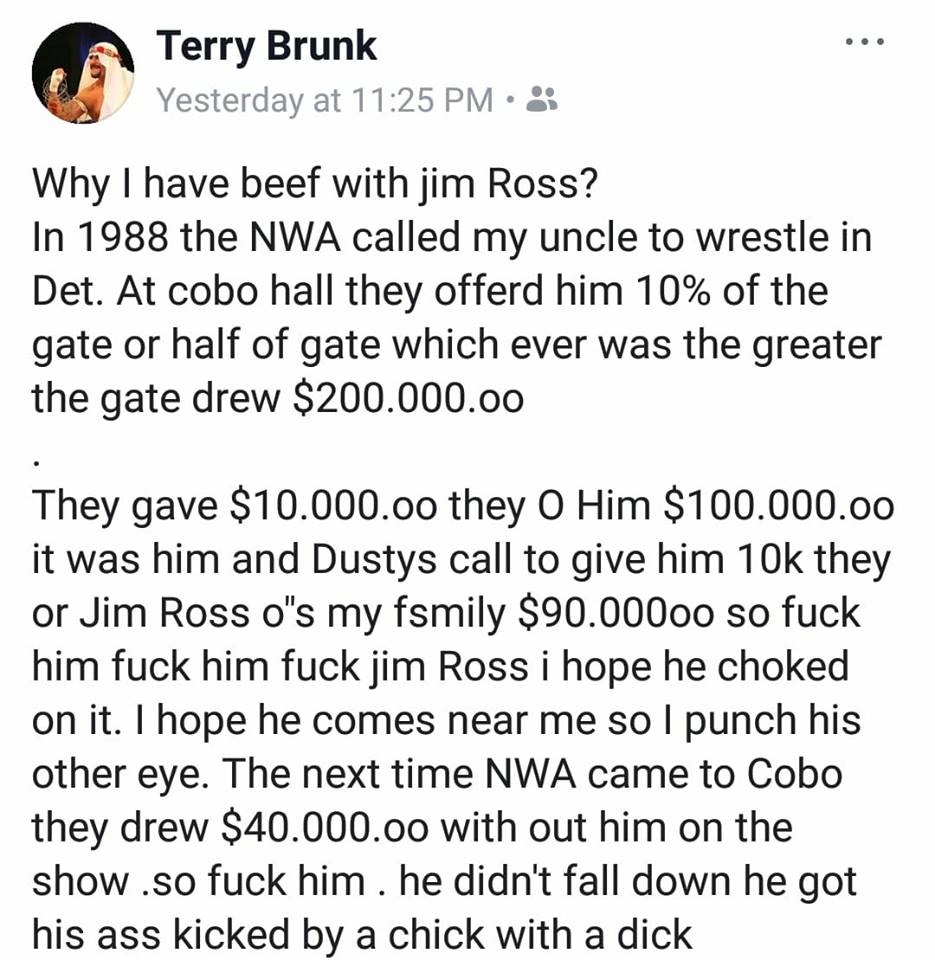 Sabu's comments were supported by some fans on Twitter and Sabu went on to claim that JR is a bad person behind the scenes:
That's what I said man
But most only see or know him from TV
But is a bad person behind sceens https://t.co/0l6izNgDpy

— Sabu (@TerryBrunk) November 20, 2018