• Eric Bischoff On Why Goldberg Gets A Lot Of Hate On Social Media & Sting Doesn't
WWE Hall of Famer Goldberg is still wrestling and will face Drew McIntyre for the WWE Championship at Royal Rumble 2021.
On the other hand, WWE Hall of Famer Sting joined AEW last year and plans on wrestling in the company.
You might have noticed that 54 year old Goldberg gets a lot of hate on Social Media, while 61 year old Sting doesn't face that issue.
During a recent interview with SK Wrestling's Riju Dasgupta, former WCW President Eric Bischoff gave his opinion on why Goldberg gets a lot of heat nowadays despite being one of the biggest draws in professional wrestling history.
Here's what Bischoff said:
"I think it goes back to the beginning of Goldberg's career. Bill Goldberg became a megastar almost overnight. And, as a result of that, Bill Goldberg was thrust into the limelight in main event matches with top-level talent, without really having the experience that would enable him to have longer, more dramatic types of matches that you would see out of a Sting, or a Chris Jericho, or you name it, any of the other top stars.
I think because of Bill Goldberg's limited experience in the very beginning, and the fact that Bill didn't really develop a much broader skill-set in terms of his technical abilities in the ring, fans sometimes look at Bill Goldberg as a limited star in terms of in-ring ability. I think there's some resentment in the eyes of fans for that.
They understand the character, how powerful the character is, but because of the limitations that he has in terms of what he can do in the ring, I think there's a little bit of resentment or resistance to Bill Goldberg."
Also Read: Goldberg's WCW Journey Began At A Strip Club
WATCH: Stacy Keibler Seduces Torrie Wilson:
You can download our official WrestleFeed mobile app to check out more Wrestling news & Divas content. Tap here to download.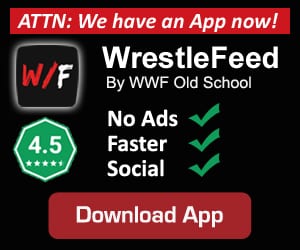 • Old School WWF/ECW Veteran Celebrates His Birthday
Old School WWF/ECW Veteran Tony DeVito (Real name: Anthony F. DeVito) celebrates his 49th birthday today.
DeVito wrestled for the World Wrestling Federation as an enhancement talent from 1992 till 1996 and later in his career became a member of 'The Baldies' in Paul Heyman's Extreme Championship Wrestling.
The last time we saw him on television was in 2006 when he appeared on 2 ECW on ScyFy (WWE's version of ECW) shows, first as Macho Libre, then as a faux preacher, both times to get destroyed by ECW Original The Sandman.
HAPPY BIRTHDAY TONY DEVITO!