• Old School Wrestling Veteran Celebrates His Birthday
Old School Wrestling Veteran "Sweet" Stan Lane (Real name: Wallace Lane) celebrates his 67th birthday today.
Most fans will always remember him as one half of legendary Old School Territory Tag Teams 'The Fabulous Ones' (with Steve Keirn) and 'The Midnight Express' (with Bobby Eaton).
In 1993, Stan Lane retired from active competition and joined the World Wrestling Federation as an announcer, until he left the promotion in 1995.
HAPPY BIRTHDAY STAN LANE!
• Former WWF Wrestler Marty Jannetty Confesses To Murder
Old School WWF Veteran Marty Jannetty is known nowadays for his weird and creepy Facebook posts.
This morning, he posted a strange story, where he confessed to murder.
Below is what he wrote:
"I never told no one this, even my brother Geno..cause Geno would've killed him, and I didn't want my brother gone"hell he'd only recently came home from Viet Nam..I was 13, working at Victory Lanes bowling alley buying weed from a fag that worked there..and he put his hands on me..he dragged me around to the back of the building..you already know what he was gonna try to do..
That was the very first time I made a man disappear..they never found him..they shoulda looked in the Chattahoochie River..but Winnie(the girl in these pics) I likes you so damn much, probably my favorite..but I promised myself way back then, nobody would ever hurt me again..that includes you..l loved you but you hurt me with your f*ckin Jamaican jealousy..you can go your own way, I don't need you.."
The post has now been deleted, but you can check out the screenshot of the post below: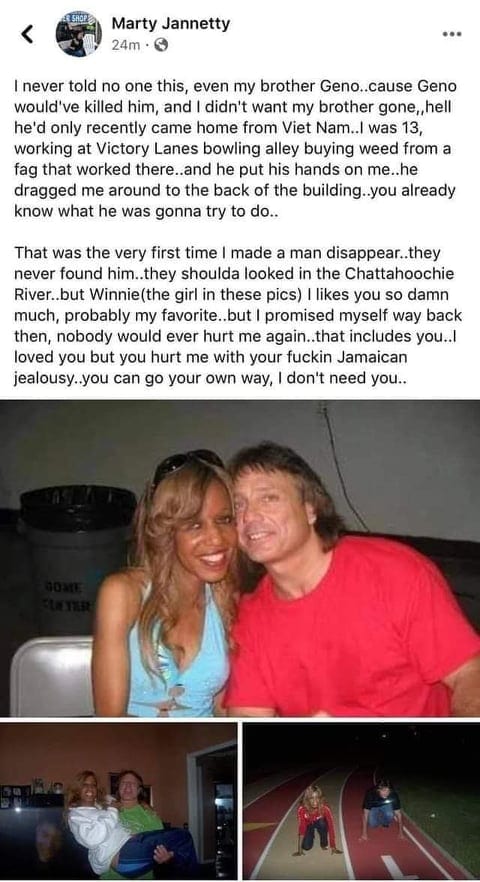 UPDATE: Marty Jannetty Explains Why He Feels Good About Killing A Man
Also Read: Marty Jannetty Confused About Sleeping With A Mother-Daughter Duo
WATCH: Revealing Photos Of John Cena's Ex-Wife Go Viral: