• "I don't know what I'm doing with my life" – Daniel Bryan
During a post-WrestleMania 37 interview with BT Sport, SmackDown wrestler Daniel Bryan revealed that his WWE contract is set to expire soon, and he's trying to figure out what's next for him.
Here's what he said:
"So my contract's actually up relatively soon. I'm still trying to figure out what I'm doing with my life (Bryan chuckles).
I'm going to be 40 soon with two kids. I've been on lone dad duty. Brie [Bella] had a couple days with the girls. I was like, 'Oh my gosh, Brie has this every week!' With one kid, I don't want to say it's easy, but throw in two kids and one of them being a baby baby and it's just like, oh my gosh, I'm juggling all these things.
There's that, and I just love spending time with my kids, and sometimes I feel like being on the road every week — you leave. You come back. When you come back, you're tired.
I didn't drink coffee before we had our daughter. I still hate the taste of it, but when I come home on a Saturday, I coffee up.
She's super excited to see me, and I'm super excited to see her, but if I come and be like, 'Sweet girl, I'm so excited to see you! Daddy's got to go take a nap.' She'd be like, 'Oh, he doesn't really seem that excited to see me. He just wants to go sleep,' and so I have to coffee up.
I got this last week off of TV and the difference in energy that I have for my kids is like, whoa, this is really nice, but I don't know what I'm doing with my life. I'm still trying to figure it out."
Bryan recently noted during the WrestleMania 37 meet & greet that he wants to wrestle outside of WWE.
Also Read: Daniel Bryan Says He Wasn't Needed In The WrestleMania 37 Main Event, Tried To Get Out Of It
WATCH: Revealing Videos Of Brie Bella's (Daniel Bryan's Wife) Top Being Taken Off:
🔥
You can download our official WrestleFeed mobile app to check out more Wrestling news & Divas content. Tap here to download.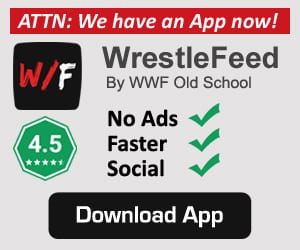 • On This Day In Pro Wrestling History (April 23, 1991) – Old School WWF Jobber Passed Away
On this day in 1991, we lost Old School WWF Jobber Frankie Williams (Real name: Armando Pumarejo) at the age of 51 due to lung cancer.
Frankie Williams was a well known enhancement talent on World Wrestling Federation TV from 1975 until 1985, and did the jobs for most of the big names from those years.
He's also well remembered for a famous Piper's Pit episode, where Roddy eventually beat him up.
REST IN PEACE FRANKIE WILLIAMS!
February 20, 1940 – April 23, 1991