As we noted last night, former WWF Champion Kane won the election to become the new Mayor of Knox County, Tennessee.
"The Big Red Machine" won the election by pulling 67% votes in his favour (where 51,804 votes citizens casted their vote in Kane's favour).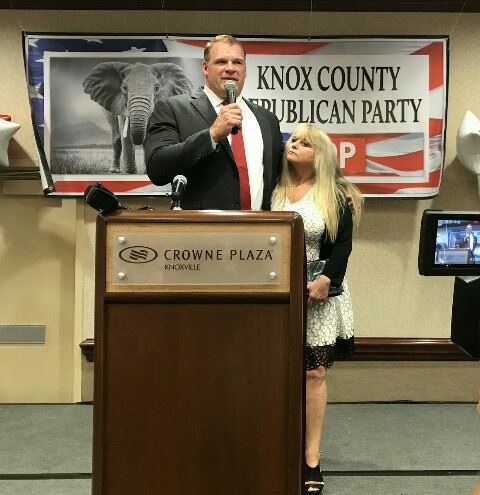 Below is what WWE posted about this:
Kane elected Mayor of Knox County, Tenn.
"According to WATE in Knoxville, Kane has been elected Mayor of Knox County, Tenn., tonight, capping a path to office that began over a year ago for the former WWE Champion.
Kane came away with a strong political victory following a narrow victory in the primary election two months ago.
Congratulations to Kane on his election!"
Knox County mayoral candidate Glenn Jacobs — aka the WWE pro wrestler Kane — is waiting for early voting results. WWE cameramen are here. One said he spent the day with Jacobs, "mostly in the rain." pic.twitter.com/Yx9ALrcWSt

— Travis Dorman (@travdorman) August 3, 2018
Last month when Kane returned to WWE for a very short run on SmackDown Live, he received criticism for doing so by his political opposition, Democratic candidate Linda Haney.
Below is what Linda said regarding Kane returning to wrestling last month:
"I was really stunned to find out he was still pursuing it. I thought it was in the past. I thought in this crucial time he'd want to be here and be with the people. Being an entertainer doesn't make you a political figure. It may get you some votes, but I believe people want someone with common sense and who is ready to lead."
Kane was then interviewed by Newsweek where "The Devil's Favorite Demon" gave his views on the criticism. During this interview, Kane noted that his wrestling career would be over if he gets selected as the Mayor and would only do special things in wrestling from that point on.
Below is what Kane said:
"After I am elected Mayor, I'll be Mayor. I'm sure some people will say that (I'm not focused) and some others will say that's the coolest thing ever. Again, you can't make everyone happy. You just do what you can and that's it… you're always going to catch criticism no matter what you do.
I may still do a few special things [in wrestling, if elected]. I've done it for 23 years now and have quite a history, it'll always be part of my life. I think the question is if I am taking [running] seriously, and of course I am. I wouldn't [be running] if not."
Kane's last match in WWE was at Extreme Rules 2018 PPV last month, where he teamed up with Daniel Bryan (to reunite Team Hell No) to lose to the SmackDown Tag Team Champions The Bludgeon Brothers in a title match.
Kane didn't do much in the match as he was injured heading into the match. The Bludgeon Brothers attacked him in a backstage segment at Extreme Rules which covered up his injury.
Kane competed in 22 matches in WWE in 2018, where he lost 20 and only won 2.
WWFOldSchool.com would like to say thank you to Kane for entertaining the wrestling fans for over two decades and wishes him the best in his future as the Mayor of Knox County, Tennessee!
Announcement: We have launched our 'WrestleFeed' App on both Android & iOS. We're trying to create Wrestling's own Social Media with it. Apart from all the wrestling news, videos & other updates on the app, we're also going to do a 'Wrestling Quiz' every week before Monday Night RAW soon. The winner of that Quiz will win $100.
Please download our app now! Below are the download links:
Android – http://bit.ly/2IVQ3yU
iOS – https://apple.co/2Oido0R