• Kurt Angle On Why He Threatened To Sue Paul Heyman
During a new episode of his podcast, WWE Hall of Famer Kurt Angle talked about the Extreme Championship Wrestling event he attended in 1996, after winning the Olympic Gold Medal.
ECW promoter Paul Heyman made an attempt to get the Olympic Hero to sign with the Hardcore Wrestling promotion, but when Kurt witnessed the crucifixion of The Sandman by his rival Raven, he went to Heyman and threatened to sue him if they would show him on television.
Here is the story the former WWF World Heavyweight Champion told on his podcast about Heyman, the infamous night there, as well as being originally approached by ECW Veteran Shanw Douglas:
"He called me and said, 'Hey, we have this company that is more geared toward your type of wrestling, Olympic wrestling, than pro wrestling. It's called ECW', he's telling me this looks more like Olympic wrestling than pro wrestling.
'Okay cool, you guys are starting a pro amateur wrestling league?' Shane said 'No, no, it's pro wrestling but it looks more like amateur wrestling'.
That's why they put the Taz match in their just to make me happy.
Shane asked me to be a part of the ECW show, it was in Philadelphia and they were going to pay me a good amount of money so I decided I was going to do it. I was excited because I thought it was more geared toward amateur wrestling.
When I get there, I'm meeting the boys and they are tattooed up, long hair, got their gear on, torn jeans, Raven's holding a chair, Sandman's holding a kendo stick and someone else is holding a ladder and I'm like this is supposed to be amateur wrestling?
This is worse than the WWF. It was a very eye opening experience to be a part of the show and what happened during the show was just crazy.
You have to understand I'm a Catholic Christian kid from Pittsburgh, to see the crucifixion was really offensive.
I didn't understand the storytelling of pro wrestling and how you want to get the wow factor. Surprise people, get them excited, get them pissed off, a lot of emotion is in pro wrestling.
Back then, I didn't get all of that, I didn't understand it. When I saw it I was like oh my god, it's someone portraying Jesus on a cross and I can't believe I'm here.
I was really upset, I went to Paul Heyman and said, 'Hey, I can't be on the same show as this, you can't air this show with me on it and if you do, you're going to hear from my attorney.'
Paul said, 'I didn't even know it was going to happen.' I was like okay, he's the promoter, it's the main event and he doesn't know if this is going to happen. He's full of sh*t.
I love Paul, he's a great guy, but he basically lied to me and I understand why, just trying to take the heat off of himself.
I won that battle but it definitely scared me away from pro wrestling. That was my introduction to pro wrestling."
Also Read: Eric Bischoff On 'Kurt Angle vs. Jeff Jarrett' TNA Storyline Being "Uncomfortable" Due To Their Real Life Situation
WATCH: Kelly Kelly Exposes Her Big Buns:
You can download our official WrestleFeed mobile app to check out more Wrestling news & Divas content. Tap here to download.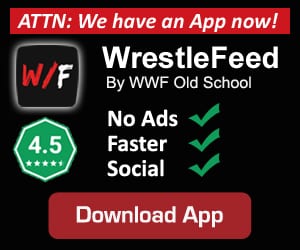 • On This Day In Pro Wrestling History (February 20, 1989) – WWF MSG House Show
On this day in Pro Wrestling history on February 20, 1989, the World Wrestling Federation held a televised house show in the world's most famous arena, Madison Square Garden in New York City, New York.
This live event featured matches on the road to the 'WrestleMania V' PPV.
The results can be found below:
Jim Powers defeated Iron Mike Sharpe
The Brooklyn Brawler defeated The Red Rooster
Big John Studd defeated Akeem via count-out
Bushwhackers defeated Rougeau Brothers
Brutus Beefcake defeated Rick Rude
Rick Martel wrestled King Haku to a draw
Greg Valentine defeated Jim Neidhart
Randy Savage defeated The Ultimate Warrior via count-out