The WWE is an ever-changing place. 2019 has been quite an eventful year for the company. One of the biggest events which took place this year was the WWE Draft, which successfully concluded on RAW a week ago.
The WWE Universe also saw the return of the 'Doctor of Thuganomics', John Cena. A dream match between Goldberg and The Undertaker also took place at WWE Super ShowDown in Saudi Arabia this past May, which may not have gone quite as well as could have been expected.
In WWE, some things change while some stay the same. 'The Beast Incarnate' Brock Lesnar won the Universal Championship at Crown Jewel 2018. This year, he'll be heading into the event as the WWE Champion. No one expected that he would be defending it against Cain Velasquez.
On the other hand, Braun Strowman fought Brock Lesnar for the Universal Championship last year. This year, he'll be going head-to-head with "The Gypsy King" Tyson Fury.
A lot of things change in WWE frequently. Some superstars who competed at the previous pay-per-views won't be a part of Crown Jewel 2019.
In this article, let's take a look at wrestlers who won't be competing at WWE Crown Jewel 2019 for controversial reasons.
5. Aleister Black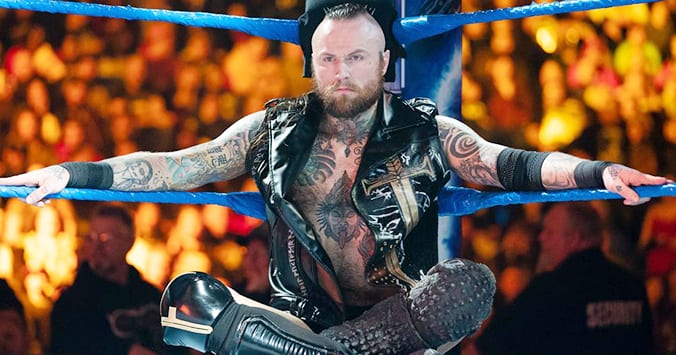 The Dutch Destroyer has been a force to reckon since his debut on the WWE main roster. Aleister Black is a dominant force inside the ring who completely demolishes his opponent whenever he steps inside the ring. He was recently drafted to RAW by the USA Network where he's appearing quite frequently.
The Executive Director of RAW, Paul Heyman, made a lot of efforts to bring Black on RAW. The way he's been booked in the first two weeks as a RAW superstar, a huge push looks imminent for him in the future.
However, Black may not be a part of WWE Crown Jewel 2019. The reason why he might not be there is that his body is completely covered with tattoos. In addition, his ring gear doesn't hide them because he just wears a trunk to the ring.
Tattoos aren't banned in Saudi Arabia, but Black's tattoos have religious connotations.
Although other superstars like The Undertaker, AJ Styles and Roman Reigns have several tattoos, but they are allowed to compete there because of their ring gears. Even if the Saudi officials allow Black to compete there, it looks like WWE wouldn't want to disrespect their culture.
*Go to the NEXT page to continue reading this article