• Marty Jannetty Reveals If He Ever Slept With Shawn Michaels
Shawn Michaels and Marty Jannetty used to be tag team partners. They were known as The Rockers.
When they broke up, Shawn went on to become a main event superstar and eventually one of the GOATs, while Jannetty stayed in the mid-card and was eventually gone from the WWF.
Nowadays, Jannetty is known for his weird Facebook posts. You can read his latest one below:
"HEY I'M ONLY POSTING THIS CAUSE I JUST GOT ASKED AGAIN IF SHAWN aka HBK AND I EVER HAD S*X (since some of you think he's gay).
Truth is, I don't love d*ck. I doubt he did and thats why the gay community called him potentially the pitcher, not the catcher..lol..but so, we roomed together 1 trillion plus 7 times.. saw him perform (only with ladies).
If I was gonna be that way, I'd have went to someone else, lol…maybe Pat Patterson so I too could leave MJ behind and become Champion..lol.
Now stop bothering me with those silly s*x questions….I'm all about the ladies, ask my neighbor girls..lol."
He later posted:
"I feel gay… but I'm pretty sure I like women..lol"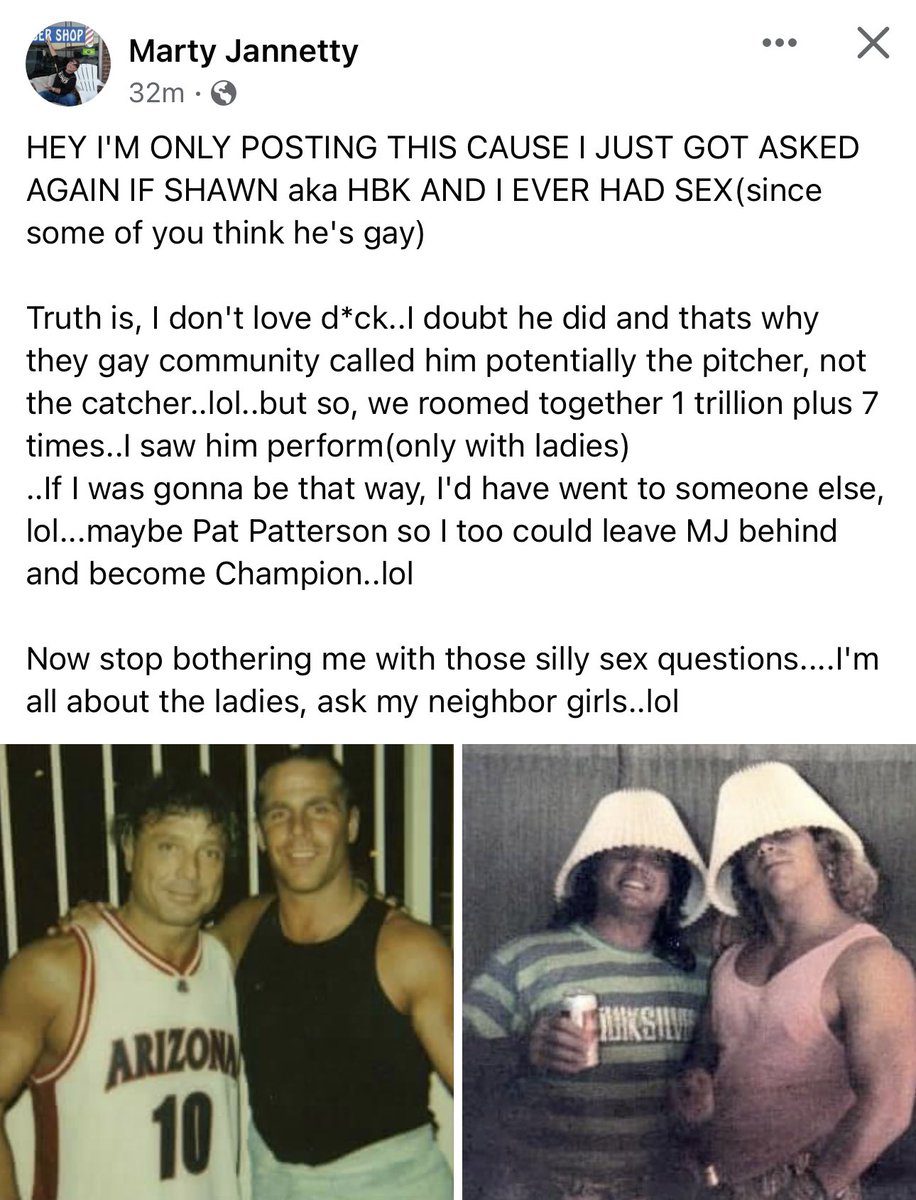 Also Read: Shawn Michaels & Marty Jannetty Accused Of Spiking Female Fans' Drinks, Raping Them & Throwing Them Out
WATCH: Dawn Marie Exposes Sunny & Brutally Spanks Her:
• ON THIS DAY IN WWF HISTORY (March 30, 1985) – WWF All-Star Wrestling
On this day in 1985, the World Wrestling Federation aired another episode of their weekly TV show 'WWF All-Star Wrestling'.
This episode was taped at the Brantford Civic Centre in Brantford, Ontario, Canada and fearued matches & interviews on the road to WWF WrestleMania I.
You can find the card below:
Interview with Women's Champ Leilani Kai
Tito Santana vs. Mr. X
WWF Update
David Sammartino vs. Gino Carabello
Interview with Cyndi Lauper, Wendi Richter
Barry Windham, Mike Rotundo vs. Terry Gibbs, Rene Goulet
Interview with Liverace
King Kong Bundy vs. Joe Marcus
Piper's Pit with guest Paul Orndorff
Hulk Hogan, Mr. T Training Vignette
Iron Sheik, Nikolai Volkoff vs. SD Jones, Paul Roma