• "Nobody in wrestling will say anything good about this guy" – Mark Henry Fires Back At Former WWF Wrestler
During a recent interview with SK Wrestling, former WWF Superstar Ahmed Johnson called WWE Hall of Famer Mark Henry a "butt kisser" and Attitude Era wrestler D'Lo Brown a "dangerous worker" due to what happened with Darren Drozdov.
Mark Henry fired back at Ahmed on the latest episode of Busted Open Radio and said the following:
"Take a guy like Ahmed Johnson, who has never had a good thing said about him in pro wrestling by anyone. I just wanted to defend D'Lo Brown.
He said that D'Lo Brown was dangerous and that D'Lo Brown ended Darren Drozdov's career and never spoke to him again. I speak to Darren all the time. D'Lo speaks to Darren all the time. Guys, just so you know, I'm telling you the truth. This is a bad human being.
Your credibility is shot. Nobody, nobody in wrestling will say anything good about this guy.
Since when did being professional, being on time, working hard, and being able to co-exist with your co-workers become being a kiss-a$$? When?
And are you guys out there that's doing podcasts so thirsty and want somebody on your show so bad that you're taking Ahmed freaking Johnson? Guys, c'mon. Do your homework.
I've never heard anybody say anything good about him. Not one, not one time. So before you start trying to tear down D'Lo Brown, future Hall of Famer, before you tear down a guy that actually was a World Champion, why don't you look in the mirror.
Your credibility is shot. Your slip is showing."
Also Read: "Vince McMahon told me I wouldn't be in the Hall Of Fame" – Ahmed Johnson
WATCH: Sharmell's (Booker T's Wife) In A Revealing Video:
You can download our official WrestleFeed mobile app to check out more Wrestling news & Divas content. Tap here to download.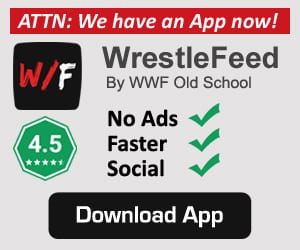 • Old School WWF Veteran Celebrates His Birthday
Legendary Old School WWF Character Brother Love (Real name: Bruce Prichard) celebrates his 58th birthday today.
His gimmick was based on most of the infamous televangelists (TV preachers) of the 80s.
Brother Love was an on-screen character on World Wrestling Federation TV from 1988 until 1991, but also returned to the WWF/WWE occasionally afterwards in 1995, 1997, 2001, 2003 & 2018.
He was The Undertaker's very first manager in late 1990 & early 1991, before Paul Bearer took over.
Bruce Prichard ended up reinventing himself in 2016, when he started his now famous podcast "Something To Wrestle With".
HAPPY BIRTHDAY BROTHER LOVE!