• "Randy had a little bit of heat at that time" – Former WWE Referee On Brock Lesnar Busting Orton Open At SummerSlam 2016
During a recent interview with Wrestling Shoot Interviews, former WWE referee Mike Chioda talked about the SummerSlam 2016 main event, which saw Brock Lesnar defeating Randy Orton via TKO.
During the ending moments of the match, Lesnar delivered vicious elbow shots to Orton's head and busted him open the hard way (without blading). This resulted in the referee stopping the match and awarding the victory to The Beast via Technical Knockout.
Orton needed 10 staples to close the wound on his head.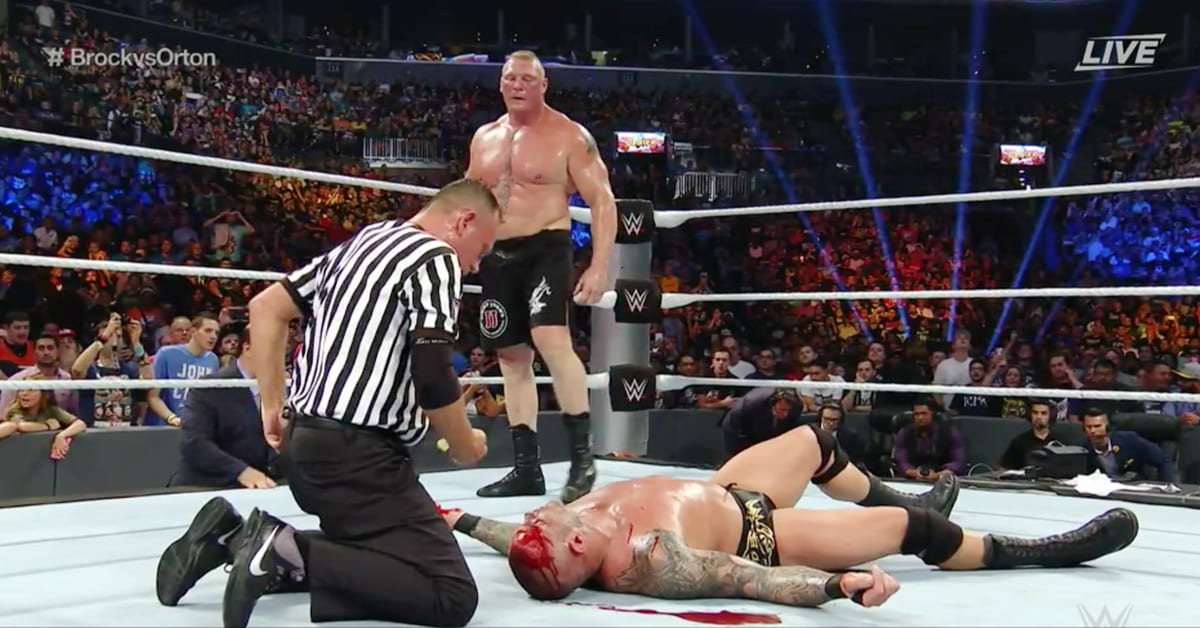 Here's what Chioda said about the finish:
"Brock gashed him open and I could tell there was something going on, but I didn't know if it was really Brock towards Randy or if it was just Brock listening to what the office wanted him to do.
Randy had a little bit of heat at that time. He gashed him open real bad over the forehead. You could tell he was going for it because he was just elbow to forehead.
I was kind of shocked that they would do that because concussion protocol was still strong at that time.
There wasn't a fallout between Brock and Randy but they just didn't talk all day, so something was going on. I don't know if it was really from the office or Brock telling them how he wanted it. I don't think Randy really had too much heat with Brock. He kind of knew what was coming, I think."
Chris Jericho confronted Lesnar backstage after this match, and Vince McMahon had to interfere to tell Jericho that the finish was planned and that all the parties involved agreed to it.
For those who don't know why WWE booked such an extreme finish, then continue reading.
On July 9, 2016, Brock Lesnar competed at UFC 200 and defeated Mark Hunt (the result was later turned to a no-contest after Lesnar failed a drug test).
With WWE allowing Lesnar to compete in UFC, a deal was made that the UFC will promote WWE's upcoming SummerSlam 2016 pay-per-view.
UFC showed the promo for Lesnar vs. Orton at UFC 200, so WWE officials were expecting UFC fans to check out SummerSlam, since Lesnar has a big following in the world of MMA as well.
So, in order to give those UFC fans something similar to MMA (and hope that they become regular WWE viewers), WWE took a chance and booked a TKO finish for the Lesnar-Orton match, to give the fans something "real" (since UFC fans usually look down on WWE as "fake").
Also Read: Details Of Real Life Altercation Between Brock Lesnar & Chris Jericho Backstage At SummerSlam 2016
WATCH: Stephanie McMahon Forcefully Kissed:
• Legendary Old School Promoter Would Have Celebrated His Birthday
Today would have been the 107th birthday of legendary Old School Promoter Vince McMahon Sr. (Vincent J. McMahon).
Vincent James McMahon was the father of "Mr. McMahon" Vince McMahon Jr. and the grandfather of Shane McMahon & Stephanie McMahon.
He was known as the promoter of Capitol Wrestling Corporation, which later turned into the World Wide Wrestling Federation and eventually became the World Wrestling Federation, before his Vince Jr. took over in 1982.
In 1996, Vince Sr. was posthumously inducted into the WWF Hall of Fame (now known as WWE Hall of Fame) by his grandson Shane McMahon.
HAPPY BIRTHDAY & † REST IN PEACE
July 6, 1914 – May 24, 1984