• Old School Tag Team Legend Celebrates His Birthday
Old School Tag Team Wrestling Legend "Beautiful" Bobby Eaton celebrates his 61st birthday today.
Eaton is famous for being one half of one of the greatest Tag Teams in professional wrestling history, The Midnight Express from 1985 till 1990.
After the team disbanded in late 1990 when his Tag Team partner "Sweet" Stan Lane and their manager Jim Cornette left WCW, Bobby would still remain with the company till he was let go in 2000.
HAPPY BIRTHDAY BOBBY EATON!
• Stone Cold Recalls His Decision Of Not Wanting To Put Over Brock Lesnar
During a recent interview with Pardon My Take, WWE Hall of Famer Stone Cold Steve Austin recalled his decision of not wanting to put over Brock Lesnar in a King of the Ring qualifying match on RAW back in 2002.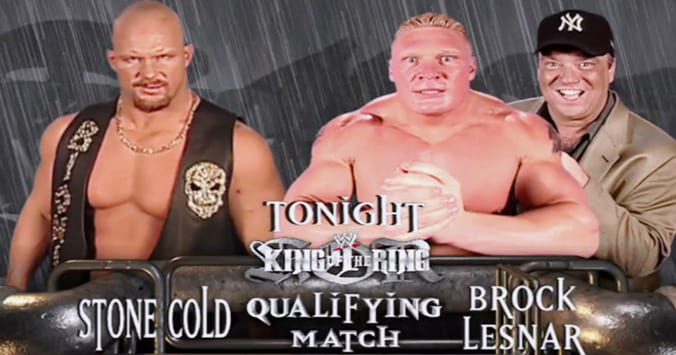 Below is what Austin said:
"I remember one specific time in Cleveland Gund Arena. They had me booked with someone that I'd already said I would not work with this person. And we were in a room about the size of this one. And man I let loose with some real colorful language, but there was a bunch of that going on and I let everybody know exactly what I thought because I told you don't put me in a situation you did.
And I said now I'm the f***ing bad guy, I said I told you not to do this to me. And it was much worse than that.
So there's been those times and the time when they wanted me to fly down to Atlanta for Monday Night Raw and put over Brock Lesnar and the night before I was working in Columbus, Georgia with Ric Flair in a cage so I was like a kid in a candy store working with the GOAT.
And then you know of course I didn't show up because it wasn't time for me to do the favors yet for Brock in an unadvertised match in a tournament style TV match.
I love Brock Lesnar and I'll lose to him any day of the week. But build it up so we'd all make money off of it and it's going to mean something. And when you get a guy red hot like I just had Hogan on the podcast and I'll put myself there. But when you get guys who really, really draw stupid money that's a very delicate balance that you just don't take stupid liberties with or you'll kill it off and you can never recreate it.
I was very protective of myself, maybe too much so but it took me seven and half years to get there so no one was gonna yank the carpet out from underneath my feet, not even Vince."
Announcement: Please download our official "WrestleFeed" app for the latest WWE News & SummerSlam 2019 updates!
Below are the download links for our Android/iOS app:
Android – http://bit.ly/2IVQ3yU
iOS – https://apple.co/2Oido0R