• "The room was spinning. I wanted to throw up" – WWE Hall Of Famer On Undertaker's Farewell Party
During his Hall of Fame podcast, two time WWE Hall of Famer Booker T talked about Undertaker's Farewell party, that took place a night before WWE Survivor Series 2020.
Here's what the 6 time World Champion said about it:
"As soon as I get off the elevator, I saw Ric Flair walking by. Ric goes, 'Hey Book! Let's go to the bar!' I'm like, 'I'm going to take a COVID test, man.' 'Alright, I'm going to the bar. Double Jack and Coke, right? I got it for you. I'll meet you at the bar.'
I went and got the COVID test, ran into JBL, Rikishi and a couple of the boys. Went to the bar to have a drink with Ric, just a drink then get my food and watch UFC. One double Jack, 7:30 rolls around, 3 double Jacks in. 8:30 rolls around, 5 double Jacks in. 9:00 rolls around and I said, 'I'm tapped.' Ric was pretty much down too.
Somebody comes down and says, 'We can't leave, Taker is coming right now.' Taker came and first thing he did was order a round of shots of Jack Daniels for everybody and he told the bartender to keep them coming. It's 10:00, I'm 3 shots of Jack in along with the 5 double Jacks.
The room was spinning. I wanted to throw up. Ric finally tapped out. It was the worst night, but the best night with the boys."
Also Read: Booker T Explains Why Legends Disappeared During Undertaker's Final Farewell
WATCH: The Undertaker's First TikTok Video:
You can download our official WrestleFeed mobile app to check out more Wrestling news & Divas content. Tap here to download.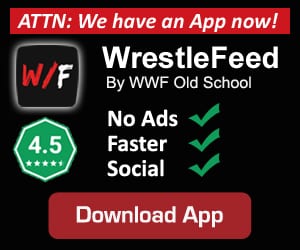 • Old School Wrestling Legend Would Have Celebrated His Birthday
Today would have been the 82nd birthday of Old School Wrestling Legend "The Big Cat" Ernie Ladd.
The former NFL Football Player became a legend during the territory days of professional wrestling, working for several promotions such as the World Wide Wrestling Federation, Championship Wrestling From Florida and NWA Mid-South Wrestling during the 60s, 70s & 80s.
He became the first person, who was inducted into both, the WCW Hall of Fame (1994) and the WWF (now WWE) Hall of Fame (1995).
HAPPY BIRTHDAY & † REST IN PEACE
November 28, 1938 – March 10, 2007