• The Undertaker's Reaction To People Calling Pro-Wrestling Fake
During a recent appearance on Victory Over Injury podcast, The Undertaker was asked about his thoughts on people calling pro-wrestling fake.
Here's what The Phenom said:
"The Old School me, when someone would say something derogatory about our business, like, "Ah, you guys are all fake!" The Old School me would be more, "OK, let's see how fake what I do is!"
Vince [McMahon] has gone out and he's explained what our product is and people don't care. If you like what we do, it doesn't matter what it is. There's still that one percent in the world that thinks, "It's all a bunch of crap!" And it's like, well, if it was as easy as you think it is, there'd be a lot more people doing it! And being successful and doing these types of things.
It's just, you said it just a minute ago, gravity always wins. There's just so much that the human body can physically take. It doesn't matter whether or not you're in the ring with your friend or somebody you like, somebody you don't like, there's the matter of you got the thumbs up that night, or the thumbs down.
To get to that point, there's a lot of physicality involved. Then multiply that by 270 dates (a year), it's a miracle there's not more injuries."
Also Read: WWF Veteran Not Happy With How The Undertaker Retired
WATCH: Stacy Keibler's Super Revealing Video:
You can download our official WrestleFeed mobile app to check out more Wrestling news & Divas content. Tap here to download.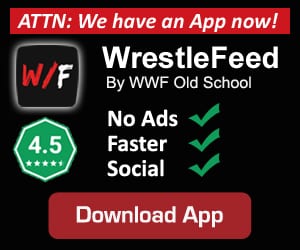 • Old School WWWF Legend Would Have Celebrated His Birthday
Today would have been the 100th birthday of Old School WWWF Legend Antonino Rocca (Real name: Antonino Biasetton).
Rocca wrestled for Vince McMahon Sr.'s Capitol Wrestling Corporation (which in 1963 was renamed "World Wide Wrestling Fderation") from 1949 till the 70s.
In 1995, he was posthumously inducted into to WWF Hall of Fame (now known as WWE Hall of Fame) by then World Wrestling Federation Champion Diesel.
HAPPY BIRTHDAY & † REST IN PEACE
April 13, 1921 – March 15, 1977