• Things Got Physical During WWE Crown Jewel 2022 Press Conference
Michael Cole kicked off the WWE Crown Jewel 2022 press conference in Las Vegas and introduced The Bloodline. Undisputed WWE Universal Champion Roman Reigns got a huge pop.
Logan Paul came out next and he got a mixed reaction.
WWE's Chief Content Officer Triple H came out next to a huge pop and the fans chanted his name. HHH shook everyone's hand.
Some fans are chanting "Logan Paul" and his haters are adding "sucks" at the end of that chant.
Triple H then officially announced a big spectacle match for the main event of Crown Jewel – Roman Reigns (c) vs. Logan Paul for the Undisputed WWE Universal Championship.
HHH says Logan has worked his a$$ off to train to become a WWE Superstar and Logan has earned his respect, which he doesn't give easily.
Triple H then said there's no one in pro-wrestling that is anywhere near Reigns' level.
Roman then said Logan signing with WWE is good thing, because he's bringing his following of 30 million to The Tribal Chief.
Reigns said Logan can be the 3rd match on every show he main events after he smashes him in Saudi Arabia.
Logan then said in his 2nd Boxing match ever, Floyd Mayweather couldn't take him down and he is not even a Boxer. Logan then said he's doing the same in WWE, he's calling the best out this soon in his career.
Paul ended by saying that Roman will acknowledge him on November 5th.
A member of the media asked Roman why he's giving Logan a title shot when there are other deserving wrestlers available.
Roman said because he's a good Tribal Chief, and because he's the Face of WWE, he's obligated to do what the company wants him to do – which is smash Logan Paul in Saudi Arabia.
Heyman then started talking trash and told Logan to YouTube his a$$ out of here and save himself from the beating of a lifetime.
Logan then disrespected Heyman and this led to Roman shoving Logan away. Triple H then came in between, calmed them down, had them do the face-off to end the press conference.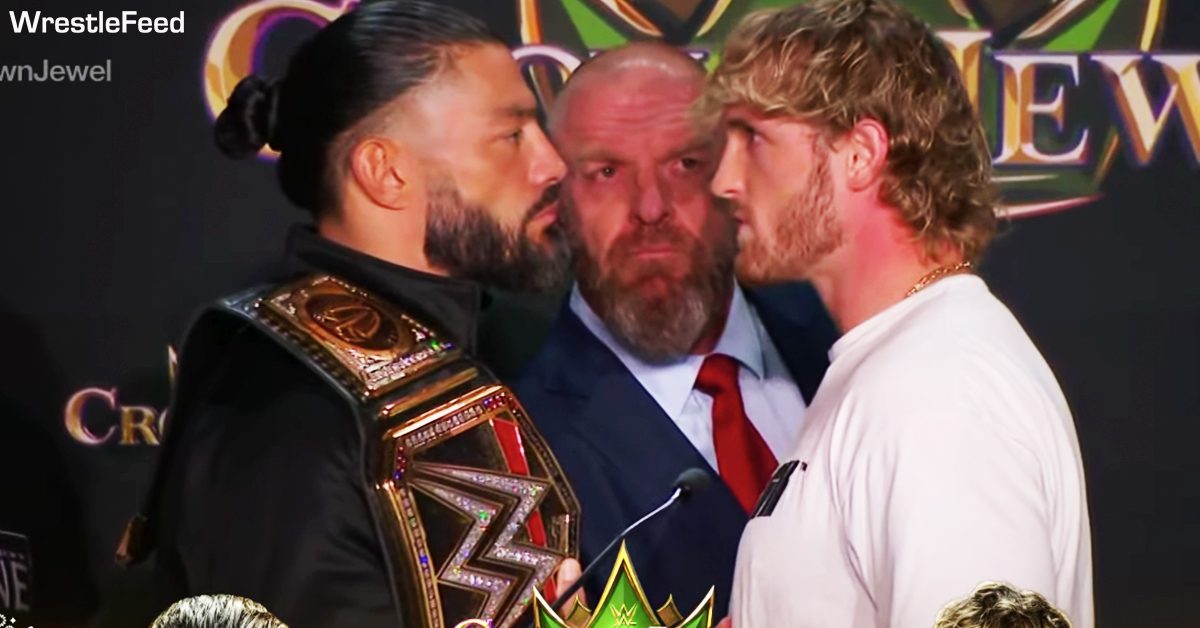 You can watch the entire press conference below:
Also Read: Jake Paul Makes A Bold Claim About Roman Reigns
MUST WATCH: Former WWE Star Chelsea Green (Wife Of Zack Ryder) Exposes Her Knockers (Video & Front-Shot Photos):
• Legendary Old School Wrestling Manager Celebrates His Birthday
Legendary Old School Wrestling Manager Jim Cornette (James E. Cornette) turns 61 today.
Cornette worked for pretty much most of the big Wrestling promotions during his career, such as the WWF World Wrestling Federation, WCW World Championship Wrestling, Mid-South Wrestling, CWA Memphis Wrestling, WCCW World Class Championship Wrestling, TNA Total Nonstop action, … & several more, but also had his own promotion during the 90s, called SMW Smoky Mountain Wrestling.
He even appeared in Paul Heyman's ECW Extreme Championship Wrestling for 1 night, but hardly anyone remembers that.
Among the most famous Wrestling Superstars, Jim has managed over the years are names like Yokozuna, The Midnight Express, Owen Hart, The Heavenly Bodies, Vader, Jeff Jarrett, The Rock'N'Roll Express, Big Bubba Rogers, The New Midnight Express, Mantaur, Barry Windham, The British Bulldog & Dan Severn.
HAPPY BIRTHDAY JIM CORNETTE!