• On This Day In Pro Wrestling History (September 6, 1988) – Old School Veteran Passed Away
On this day in 1988, we lost Old School Wrestling Veteran "Bad Bad" Leroy Brown (Real name: Roland Daniels) at the young age of 37 due to a heart attack.
He wrestled for several territories such as Georgia Championship Wrestling and Jim Crockett Promotions, among many others.
He also competed at the 'NWA Starrcade 1984' event under the name Elijah Akeem, as one half of The Zambuie Express.
† REST IN PEACE LEROY BROWN
November 30, 1950 – September 6, 1988
• Tony Khan Says He Wouldn't Follow WWE's Unfair Policy In AEW
While speaking on the AEW All Out conference call, Tony Khan was asked about WWE's new policy regarding talent engaging in third party activities and if he'd do the same with talent in AEW.
Below is what he said:
"It's a very topical question. It's a good question and it's come up recently for a lot of wrestlers. For our people, I don't want people to be concerned that I'm going to stop them from trying to monetize their Twitch or even appearance money and things of that nature.
I think there are gray areas. I think, you know, all of these different mediums, all these platforms are different and I probably have different answers on different platforms. I think some sponsorship stuff is a gray area. You know, if one of your big star wrestlers was to go try and get a Pepsi sponsorship under their Twitch and not as a wrestler, you'd be like, well, that seems like you're trying to circumvent the company.
For the most part, I support people going out and trying to go out on Twitter and monetizing that platform. I'm okay with people monetizing their YouTube, which I think is very clear here because a lot of people have YouTube shows and famously, Being The Elite, The Young Bucks' show is not on the AEW channel, but we support it and our wrestlers are all over it but it's not AEW's show and I think a lot of our wrestlers have their own vlogs, and shows, and social media properties. So it's a great question.
I think it's different, you know, depending on what platform you're talking about and how you're addressing it. I definitely think I wouldn't tell people they can't do anything outside the company, though, that seems too unfair and [like a] pretty strong policy."
Also Read: AEW Takes A Shot At WWE's New Policy During All Out PPV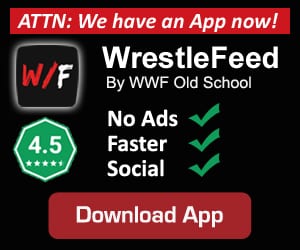 WATCH: Sable Gets Stripped Unforgiven 1998 (Part 1):
You can download our official WrestleFeed mobile app to check out more Wrestling news & Divas content. Tap here to download.