• Update On Jeff Hardy After DUI Arrest
Former WWE Champion and current AEW Superstar Jeff Hardy was arrested in Volusia County, Florida.
He is being charged with the following:
– DUI (Alcohol or Drugs) – 3rd offense within 10 years [Felony under Florida Law]
– Driving while license canceled/suspended/revoked [Misdemeanor]
– Violation of restrictions placed on driver's license [Misdemeanor]
Hardy was incarcerated at Volusia County Jail.
Below is the mugshot: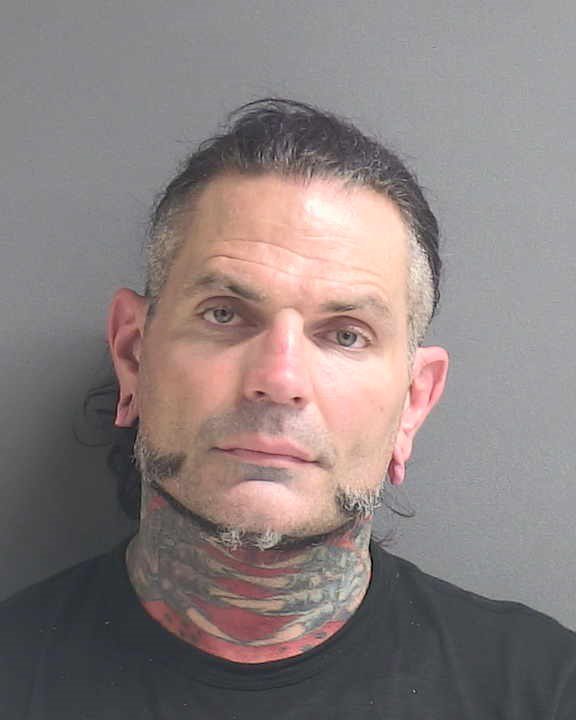 ESPN's Marc Raimondi provided the following details regarding Jeff's arrest:
"Per the Florida Highway Patrol arrest report on Jeff Hardy, a white car was seen 'swerving' and 'running off' the roadway Monday around 12:30 AM.
When the officer made a traffic stop and engaged Hardy, the wrestler seemed 'to be in a stupor and confused,' per the report.
Once he left his car, Hardy was unsteady and smelled of alcohol, per the report. Officers, through conversation, learned Hardy had been drinking. Hardy could not complete any portion of sobriety exercises successfully 'or without risk of falling,' the officer wrote in the report.
Officers administered a breath test and Hardy's first sample read 0.294 of blood-alcohol content. A second sample read 0.291. The legal limit to drive in Florida is .08."
In an update, Hardy was bonded out of jail on Monday evening after paying a $3,500 bond. His court hearing for Tuesday got canceled.
Also Read: Title Match Featuring Jeff Hardy Pulled From This Week's AEW Dynamite
WATCH: Brooke Adams Exposes Her Buns:
• ON THIS DAY IN NWA HISTORY (June 13, 1987) – NWA World Championship Wrestling
On this day in 1987, Jim Crockett Promotions aired an episode of their weekly TV show 'NWA World Championship Wrestling'.
This episode was pre-taped at the WTBS Studios in Atlanta, Georgia and featured matches, interviews & storyline segments on the road to the 'NWA Starrcade 1987' PPV.
The card can be found below:
– Kendall Windham vs. Art Pritts
– Dusty Rhodes vs. Tully Blanchard (6/6/87, Greensboro, NC)
– Jimmy Garvin vs. Rick Sullivan
– Blanchard, Anderson & Luger vs. Chance McQuade Mike Force & Cougar Jay