• ON THIS DAY IN WCW HISTORY (May 11, 1998) – WCW MONDAY NITRO
On this day in 1998, Ted Turner's World Championship Wrestling aired another LIVE episode of their weekly TV show 'WCW MONDAY NITRO'.
It was broadcasted from the Kemper Arena in Kansas City, Missouri and featured matches, interviews & storyline segments on the road to the 'WCW Slamboree 1998' PPV.
The card can be found here:
– Disco Inferno vs. Barry Horowitz
– Billy Kidman vs. Juventud Guerrera
– Scott Norton vs. Yuji Nagata
– Hugh Morrus vs. Jim Powers
– Ultimo Dragon vs. Johnny Swinger
– Bill Goldberg vs. Len Denton
– Perry Saturn vs. Jerry Flynn
– Fit Finlay vs. Rage
– Diamond Dallas Page vs. Lenny Lane
– Glacier vs. Sick Boy
– Chris Benoit vs. Booker T
– Hollywood Hogan vs. Randy Savage
• Old School WWF Jobber Of The Day: Brian Costello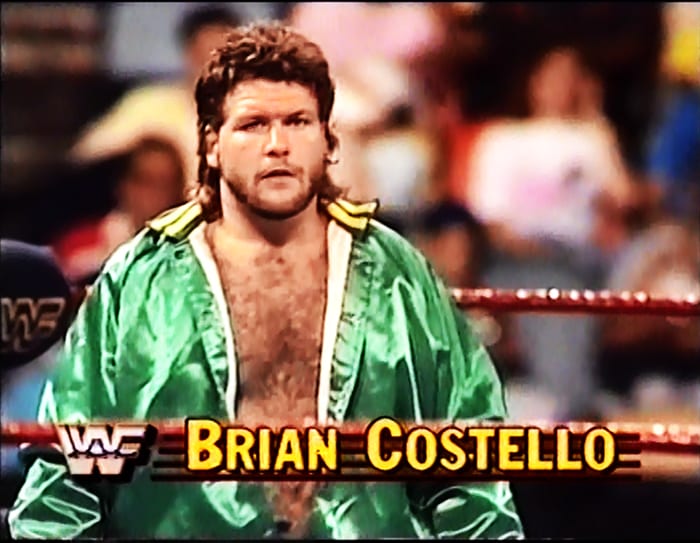 • Wrestling World Reacts To Becky Lynch's Pregnancy News
The biggest news in the world of Pro-Wrestling today is that former RAW Women's Champion "The Man" Becky Lynch is pregnant, and she's going to be away from WWE programming for a while now.
Below is how the wrestling world reacted to this big news:
Wow!!! Goosebumps!!! Welcome to the Mommy Club!! It's a great club to be apart of!! You'll be an amazing mother like you were a Champ. Xxoo -Brie https://t.co/DTYvZzPwtY

— Nikki & Brie (@BellaTwins) May 12, 2020
Congratulations Bex. Beyond happy for the both of you! pic.twitter.com/SVFI7lJd4Q

— Ms. WrestleMania (@MsCharlotteWWE) May 12, 2020
What theeeee CONGRATS TO @BeckyLynchWWE and @WWERollins on the announcement today!!! Wow. Segment gave me chills on raw. You're gonna be great parents! And congrats to @WWEAsuka on becoming in the champ ????❤️?

— PAIGE (@RealPaigeWWE) May 12, 2020
Huge huge huge congrats to @BeckyLynchWWE and @WWERollins beyond excited for you guys ❤️❤️❤️❤️

— Renee Young (@ReneeYoungWWE) May 12, 2020
You will never know a stronger love!!! One truly worth fighting for. I'm so happy for you! Congratulations sweetheart!! ??? https://t.co/S2yV8tuxBm

— Mickie James~Aldis (@MickieJames) May 12, 2020
SO happy for you @BeckyLynchWWE? #Raw

— NattieByNature (@NatbyNature) May 12, 2020
I'm not crying you're crying! ? https://t.co/L4IIdD8C7N

— Peyton Royce (@PeytonRoyceWWE) May 12, 2020
OMG!! Congratulations @BeckyLynchWWE & @WWERollins ??? That's incredible news & I couldn't be happier for you both ? #WWERaw

— Billie Kay (@BillieKayWWE) May 12, 2020
She's done so many amazing things. Now, @BeckyLynchWWE is going to do the MOST amazing thing. Congratulations, my friend.

— Mustafa Ali / Adeel Alam (@AliWWE) May 12, 2020
WHOAAAA CONGRATS @BeckyLynchWWE #RAW

— The HBIC (@MiaYim) May 12, 2020
Congratulations to my friend @BeckyLynchWWE – time to "go be good" at this next chapter of your life! https://t.co/nfBuhGy0QE

— Jason Ayers (@JasonAyersWWE) May 12, 2020
Congrats @BeckyLynchWWE! Not every kid gets to say their Mam is The Man, but yours will. Absolutely buzzing for you. ❤

— Jordan Devlin (@Jordan_Devlin1) May 12, 2020
Congratulations, @BeckyLynchWWE !!?
I'll never forget your kindness from that time. https://t.co/fmY1h0pen4

— KAIRI SANE (@KairiSaneWWE) May 12, 2020
Wow. @BeckyLynchWWE and @WWERollins are going to have one of the most genetically gifted babies of all time.

Congrats. #RAW

— Sam Roberts (@notsam) May 12, 2020
I can't say enough good things about @BeckyLynchWWE. She deserves everything amazing that's about to happen in her life. Thank you and here's to the start of a beautiful chapter in your life with @WWERollins.

— Matt Camp (@TheMattCamp) May 12, 2020
Congrats @BeckyLynchWWE!!! You're going to be such a great mom. ❤️❤️❤️

— Kayla Braxton (@KaylaBraxtonWWE) May 12, 2020
The biggest congrats to @BeckyLynchWWE!!! What a run she's having!!! Breaking All-Time @WWE #Raw Championship Records, having an awesome scene on the @SHO_Billions premiere, and now, MOM TO BE!!!! A belated Happy Mother's Day to you! INCREDIBLE!

— Dean Muhtadi (@MojoRawleyWWE) May 12, 2020
Ermagerd! Congratulations @BeckyLynchWWE !!!!!

— Killian/Damo (@KillianDain) May 12, 2020
Also Read: Becky Lynch Not Sure About Her Future In Wrestling
WATCH: Becky Lynch Owns John Cena: