• Old School WWF Veteran Celebrates His Birthday
Old School WWF Veteran Haku (Real name: Tonga Fifita) celebrates his 60th birthday today.
He joined the World Wrestling Federation in 1986 as King Tonga, but was soon renamed Haku and put into a Tag Team with Tama, called "The Islanders".
Haku wrestled for the WWF until early 1992, before he signed a contract with Ted Turner's World Championship Wrestling in 1994 and worked for the promotion under the name "Meng", till he returned to the WWF in January 2001 for one last run, that only lasted a few months.
He's still considered one of the toughest pro wrestlers of all time, some even argue that he's the most bad ass tough guy ever in wrestling history.
HAPPY BIRTHDAY HAKU!
• WWE Advertising Upcoming Undertaker Appearance
As we noted before, there was a rumor going on that The Undertaker is done with WWE because he removed all mentions of WWE from his Twitter account.
Below is a screenshot: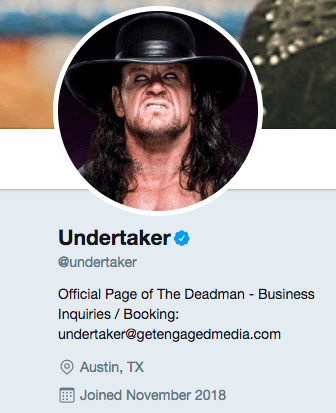 It should be noted that The Undertaker is NOT done with WWE because The Phenom has that same description added on his Instagram account as well (as he promotes his meet & greet appearances now) and this information has been on his Instagram account while he was wrestling for WWE last year.

So The Undertaker promoting his individual appearances has nothing to do with him being done with WWE. Also, he doesn't need to write in his profile that he works for WWE as everyone knows who he is.
WWE confirmed this as well (in a way) by promoting The Undertaker's next appearance and showing all is good between them.
Below is what WWE posted:
Meet The Undertaker in Friendswood, Texas
"Come meet The Undertaker at Fiterman Sports Memorabilia Store located at the Baybrook Mall Outdoor Expansion in Friendswood, Texas, on Saturday, March 23, from 3-4:30 p.m.
Please note: Tickets are required for autograph and photo opportunities. Availability is limited. Advanced purchase is required – please visit here for more information."
Speaking of The Undertaker, his in-ring status for WrestleMania 35 isn't confirmed at the moment (some reports suggest he will wrestle and some suggest he won't), one thing is for sure – he is going to be making an appearance at WrestleMania 35 on April 7th (which will be his 27th appearance at WrestleMania).
WATCH: The Undertaker & Kane's Emotional Hug In The Ring After WWE Crown Jewel 2018 PPV: