• ON THIS DAY IN WWF HISTORY (October 7, 2000) – WWF Jakked / WWF Metal
On this day in 2000, the World Wrestling Federation aired an episode of their weekly syndicated TV show 'WWF Jakked' (night version) aka 'WWF Metal' (afternoon version).
It featured matches on the road to the 'WWF No Mercy 2000' PPV.
The card can be found right here:
– Just Joe vs. Essa Rios
– Gangrel vs. Perry Saturn
– T&A vs. J.R. Ryder & Vincent Goodnight
– Dean Malenko & Crash Holly vs. Lo Down
• WWE Deletes Seth Rollins vs. The Fiend Rematch Announcement
As seen last night at Hell In A Cell 2019, fans thought that Seth Rollins vs. The Fiend Hell in a Cell match ended in a DQ, but that's not the case.
According to WWE, the match ended via "referee stoppage", which would kind of mean that Seth Rollins won the match, not The Fiend (but WWE didn't mention this anywhere).
Below is what WWE posted:
Universal Champion Seth Rollins vs. "The Fiend" Bray Wyatt ended in Match Stoppage
"Clearly sensing that a line was about to be crossed, the referee tried to stop Rollins from using the hammer. But The Beastslayer did it anyway, bringing the tool straight down on the whole pile, causing the ref to wave off the match while a crew of medics tended to Wyatt.
Rollins, who was clearly on the verge of madness, made the mistake of straddling his fallen foe and quickly found himself ensnared in the Mandible Claw as Wyatt rose up from his back and continued his attack.
Rollins was helpless to respond as Wyatt took him outside the ring, exposing the arena floor by tearing up the mat. It became clear that the Universal Championship was the last thing on Wyatt's mind. Wyatt smashed Rollins face-first into the arena floor with Sister Abigail and applied the Mandible Claw once again.
This time, the writhing Rollins was spared only by the signature shrieks that precede Wyatt's exit. Hell in a Cell did not end with "The Fiend" Bray Wyatt as Universal Champion. But clearly, he'd gotten what he came for all the same."
WWE then went on to announce a rematch between Seth Rollins & The Fiend at Survivor Series 2019 on Twitter, but then deleted that tweet.
You can check out a screenshot of this tweet below: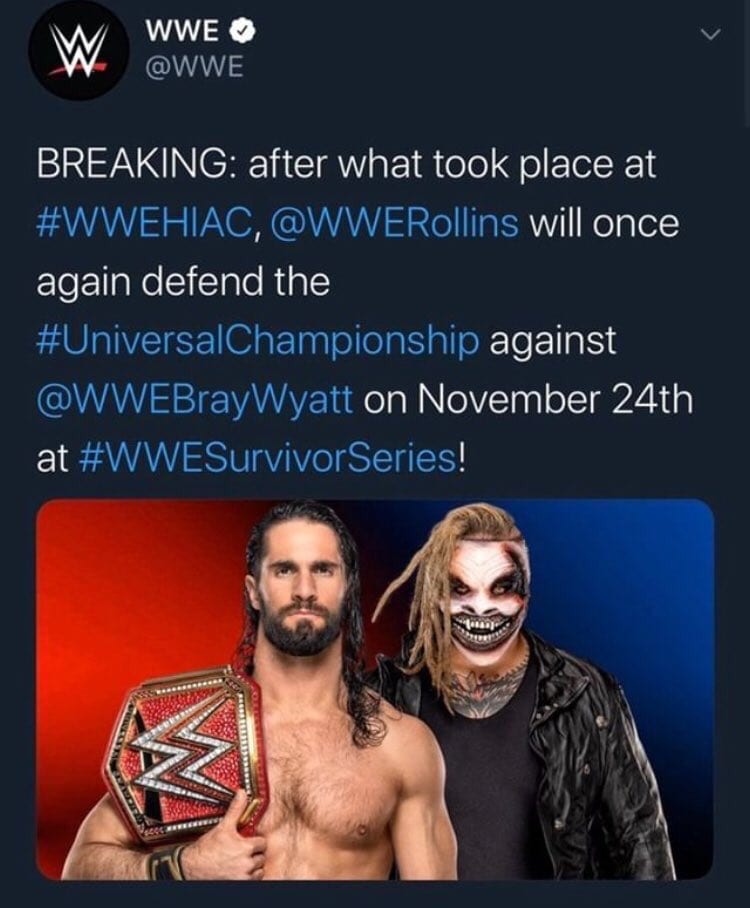 Also Check Out: Seth Rollins Receives Major Fan Backlash After Hell In A Cell 2019 (Video)