• James Ellsworth Reveals What Shane McMahon Told Him After His 1st Appearance On SmackDown
During an appearance on The Steve Austin Show podcast, former WWE wrestler James Ellsworth talked about wanting to be a pro wrestler since he was a kid, his parents' reaction to him joining pro wrestling school, being skeptical about how he would be received, what Shane McMahon told him after his first appearance on SmackDown and more.
Below are the highlights:
On wanting to be a pro wrestler since he was a kid:
"I can't remember ever not wanting to be a pro wrestler. I started watching it at a young age. In kindergarten and first grade, they would ask us what we wanted to be when we grew up. People would dress as doctors or police officers, nurses, but I would come dressed as a wrestler. My dad would try to dress me up as a baseball player, but I'm like, no, I want to dress up like the Ultimate Warrior because I want to be a professional wrestler when I grow up. I
can't remember not wanting to be a professional wrestler my whole life. I started watching wrestling at a young age; around 4 or 5 years old. Ricky Morton was the first pro wrestler that I noticed in the NWA around 1988, 1989 when I was 4 or 5 years old. Then I noticed 'Macho Man' Randy Savage and the Ultimate Warrior. I was just hooked right away."
On his parents' reaction to him joining pro wrestling school:
"They were like, look, you're not going to make it big. You're going to get hurt. You shouldn't do this. You're going to take your graduation money you made and putting it into pro wrestling school, it's not very smart, but we know we're not going to stop you from doing it. So they were supportive in that way when they told me all the A, B and C why you shouldn't do it, but then they were like we know you want to do it, so go get them and see what happens."
On being skeptical about how he would be received:
"After the six weeks, and I knew I would be appearing on TV, I was like, man, is this just an internet thing where guys were just having fun on the internet or did people really care? So, that first appearance on SmackDown AJ Styles was looking for a partner when AJ Styles was a heel. Daniel Bryan said that if you couldn't look for a partner then we would find one for you. I was going to be revealed as a partner. I was thinking, man, hopefully they react when I walk into the camera into the shot. So AJ Styles couldn't find a partner, nobody wanted to team with him. It was a match against Dean Ambrose and John Cena.
On what Shane McMahon told him after his first appearance on SmackDown:
"When I walked into the camera I heard the crowd react. It was a live shot, and we did the shot, afterwards Shane McMahon came to me and said, 'Kid, did you hear that pop?' He was all excited for me. You know Shane; he's one of the boys. Once he started doing that I realized that it was real and people wanted to see the character, and see it do something. That night before I debuted, Miz beat me up on the stage and stole the spot in the match and then you didn't see me again for a month and that was when I came in to wrestle AJ Styles for the first time."
• WWE Star Accidentally Unmasked At Live Event (Video)
At a recent WWE Live Event in Anaheim, former WWE Cruiserweight Champion Kalisto got unmasked accidentally during a match with current WWE Cruiserweight Champion Cedric Alexander.
Referee then stopped the match for a while and helped Kalisto put the mask back on. You can watch it below:
Kalisto's mask just came off mid-match #WWEAnaheim pic.twitter.com/uodVEMEvt4

— Adam (@ClippsMcGee) June 25, 2018
• WWE Officials Reportedly Told Announce Team Not To Mention Vader
According to the Wrestling Observer, WWE's announce team members were told not to say anything regarding the passing of Old School WCW Legend Vader. No information is available as of now regarding why WWE decided to make this decision.
WWE only ended up with showing a tribute graphic for Vader before RAW began and it didn't sit well with WWE Hall of Famer Road Warrior Animal.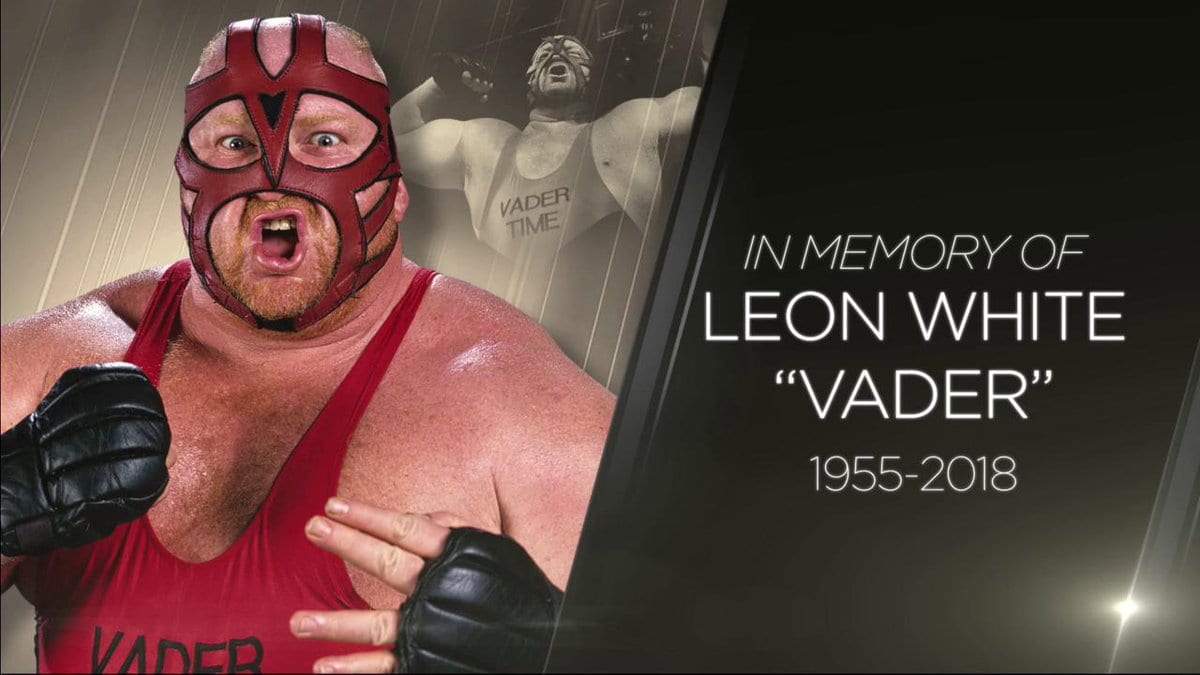 Below is what Animal posted on Facebook:
"Seriously WWE all you throw up is a picture of Vader no video package? A main event performer for most of his career.
WOW
# insulting
sorry just my opinion"
While WWE did air a video tribute for Vader on NXT and added a Vader collection on the WWE Network, many people believe WWE should've done a ten bell salute or at least a proper video package tribute on their flagship show – Monday Night RAW.