• On This Day In Pro Wrestling History (March 13, 2017) – Old School Wrestling Veteran Passed Away
On this day in 2017, we lost Old School Wrestling Veteran Dennis Stamp at the age of 70 due to cancer.
Dennis Stamp wrestled in the 70s and 80s and was even voted "1971 Rookie of the Year" in Verne Gagne's American Wrestling Association.
Most people remember this former NWA / AWA Wrestler from his appearance in the 1999 cinema movie 'Beyond The Mat' where he said the famous words "I'm not booked".
† R.I.P. DENNIS STAMP
• WWE Planning Something Special For Finn Balor At WrestleMania 35
As seen on this week's post-FastLane 2019 edition of RAW, Finn Balor lost the Intercontinental Championship to Bobby Lashley.
WWE made a big blunder regarding this Title change as they aired the following advertisement in Chicago (for next week's show at the Allstate Arena) before the Lashley-Balor match even took place: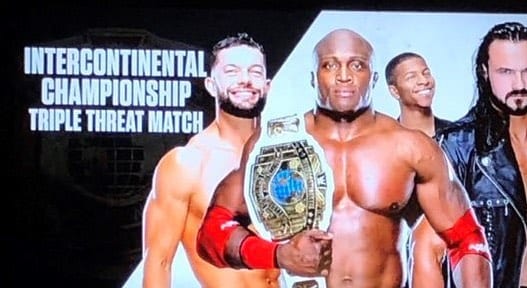 As seen in the above photo, Lashley was shown as the Intercontinental Champion and this spoiled the Intercontinental Title match finish on RAW for fans watching in Chicago.
Speaking of this Title change, WrestleVotes noted that Balor dropped the Intercontinental Championship because WWE officials are planning something for him at WrestleMania 35.
Chatting w/ a source this morning. One notable quote: "I'm figuring they took the IC off of Finn for a reason, I think they have something for him at Mania"

So…. what do you guys think?

— WrestleVotes (@WrestleVotes) March 12, 2019
With Balor dropping the Intercontinental Title in under a month, one would expect Balor would be doing something that's bigger than the Intercontinental Title picture at WrestleMania 35.
We'll keep you updated regarding this "special" plan for Balor.
WATCH: RAW Wrestler Alicia Fox Exposed Due To Wardrobe Malfunction: