• ON THIS DAY IN WWF HISTORY (November 3, 1984) – WWF Maple Leaf Wrestling
On this day in 1984, the World Wrestling Federation aired another episode of their weekly TV show 'WWF Maple Leaf Wrestling'.
This episode featured pre-taped matches & interviews on the road to the first ever WrestleMania event.
You can find the card below:
1. Dr. D David Schultz vs Tony Garea
2. Sgt. Slaughter vs Goldie Rogers
3. Kamala vs Nick Decarlo
4. Big John Studd vs Richard Cummings
5. Brutus Beefcake vs Rick McGraw
6. Greg Valentine vs SD Jones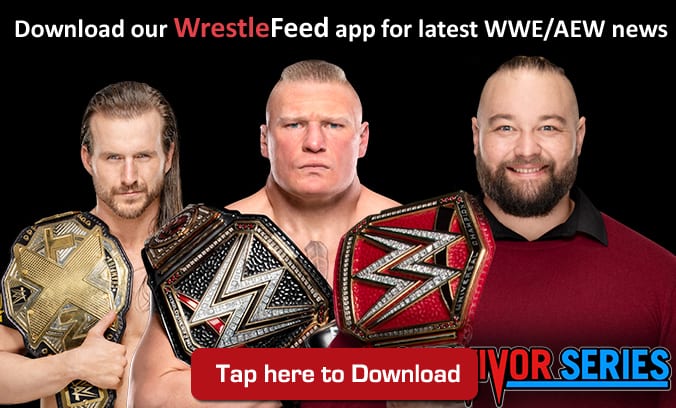 • WWE Possibly Trying To Protect Their Business Relationship With Saudi Arabia
According to former WWE Spanish commentator Hugo Savinovich, who has a lot of connections in WWE and Saudi Arabia, there's major heat between Vince McMahon and the Crown Prince of Saudi Arabia.
While WWE said that WWE Superstars couldn't appear on SmackDown due to a mechanical problem in the plane in Saudi Arabia, that's not the case at all.
Hugo is reporting that Vince hasn't been paid for the two Saudi PPVs that took place this year and word going on is that Saudi Arabia owes $300 to $500 million to the WWE (Hugo could be incorrect while stating these figures as WWE was paid a total of $60 million for Crown Jewel last year).
With that being said, Vince retaliated by cutting off the Crown Jewel live TV feed in Saudi Arabia.
Vince's actions pi$$ed off the Crown Prince and he ordered to have the WWE wrestlers be taken off Atlas Air just before the plane was about to take off.
If there were mechanical issues with the plane, then Vince could have easily arranged another plane for his wrestlers, but that didn't happen.
Brock Lesnar was able to leave before all of this took place because he has his own private jet and Hulk Hogan, Ric Flair & Jimmy Hart went with him.
In an update to this, Brad Shepard is reporting that Vince is refusing to do another Saudi Arabia PPV until WWE gets their money:
"According to a source in WWE, Vince McMahon said they won't be returning to Saudi Arabia until they get their money owed."
Not only this, but BodyslamNet is reporting that many WWE wrestlers are also refusing to go to Saudi Arabia after "power play" by Saudi government:
"I was told after speaking to a source within the company who was on the trip to Saudi Arabia, that many of the members of the WWE Roster feel that they were detained and held in the country against their will as a 'power play' by the Saudi Government.
There are many WWE Superstars who have said that they 'will never go back' to the country again following the incident and detaining in Saudi Arabia."
WrestlingNewsCo is reporting that WWE wrestlers aren't happy with Vince McMahon's actions after Crown Jewel 2019:
"I spoke to one wrestler who said the frustration with [Vince] McMahon is that he left before the travel issues surfaced and there were rumors going around that McMahon's money issues with the Crown Prince left them stranded."
Dave Meltzer then went on to note that a lot of wrestlers have lost respect for Vince after this incident:
Except it was a Vince's show. Look, say whatever you want about Vince, and right now after this week a lot of the talent lost a great deal of respect for him, but this was a Vince show and it was good TV. The idea of pretending it wasn't is just baffling.

— Dave Meltzer (@davemeltzerWON) November 2, 2019
It now looks like WWE is trying to protect their business relationship with Saudi Arabia by sticking to the excuse of they gave regarding the plane facing mechanical issues:
One person in the company said WWE is trying to get video from as much talent as possible to claim the mechanical issues on the plane were the problem. Just the fact they would do this is very strange.

— Dave Meltzer (@davemeltzerWON) November 3, 2019
Had a wrestler who wasn't in SA telling me this as well. Really odd. https://t.co/SafhBNwSy4

— Sean Ross Sapp of Fightful.com (@SeanRossSapp) November 3, 2019
WATCH: Former WWE Diva Layla Shows Off Her Big Juggs: