The second biggest pay-per-view of the year, WWE SummerSlam, finally emanates tonight from the Scotiabank Arena in Toronto, Ontario. Last time WWE held a big event in Canada, it was the Survivor Series pay-per-view back in 2016.
The match-card is star-studded and looks quite promising. The card for SummerSlam 2019 is all set, barring any last moment changes, and, with 10 matches scheduled for the event, this show might end up being the longest show in recent memory.
The build-up for most of the matches was pretty great this time, and has the WWE Universe hyped up for the event. One disappointing thing about the event is that several titles won't be defended at the show. WWE has completely ignored all the tag team divisions on the road to SummerSlam. The Intercontinental Championship will also not be a part of the biggest party of the summer.
Looking at the positives, we'll get to see some intriguing matches like Kevin Owens vs. Shane McMahon and Goldberg vs. Dolph Ziggler. In addition, WWE Hall Of Famer Trish Stratus will be facing Charlotte Flair in her last match ever.
In this article, let's take a look at 10 things which might happen tonight at SummerSlam.
10. R-Truth Loses The 24/7 Title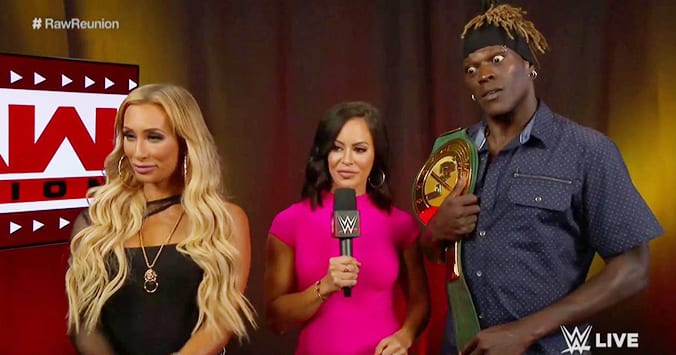 The 24/7 Championship once again changed hands on last week's episode of RAW. WWE did the unexpected, and took the title off Maria Kanellis in just one week. Maria was seen going to the doctor for an appointment. Her husband Mike Kanellis capitalized on the opportunity, and pinned her while she was about to get a check-up.
The multi-time 24/7 Champion, R-Truth also followed Mike to the hospital. As soon as Mike won his second 24/7 Title, Truth rolled him up, and won his eleventh 24/7 Championship.
Truth almost lost the title at WWE's meet and greet event in Toronto this Saturday. Drake Maverick disguised in a John Cena shirt to fool Truth, tried to pin him, but he failed. Titus O' Neil also attempted to pin Truth, but Truth retreated safely.
We can expect another angle for the title at SummerSlam tonight. Multiple superstars, especially Drake Maverick and Mike Kanellis, will be after R-Truth tonight. He will most probably lose the title tonight.
The 24/7 Title picture is always full of surprises, so we can't predict what is exactly in store for Truth, but one thing is for sure, Truth will face a lot of obstacles in defending his title tonight at SummerSlam.
*Go to the NEXT page to continue reading this article