July 29, 2018 is date that will not be forgotten.
Earlier today, we noted that WWE Hall of Famer Nikolai Volkoff passed away at the age of 70. Volkoff was admitted in the hospital for dehydration and other issues and was released just a few days ago. He passed away this morning.
With that being said, WWF Attitude Era wrestler Brian Christopher (a.k.a Grandmaster Sexay), who is the son of WWE Hall of Famer Jerry "The King" Lawler, hung himself in jail and was rushed to the hospital.
It can now be confirmed that Brian has passed away at the age of 46.
Below is what Memphis Wrestling posted about it:
"We are saddened to inform you that sources close to the Lawler family have confirmed that Brian Christopher Lawler has passed away today. Details of the cause of death have not yet been released to the public. We will post more details of this tragedy as they become available. Brian was 46 years old. He will be missed by his family, friends, and brothers in the business.
RIP Brian Christopher Lawler
January 10, 1972 – July 29, 2018″
Another Old School wrestler that has passed away is Brickhouse Brown. Dave Meltzer confirmed it on Twitter.
Just to confirm, Nikolai Volkoff, Brian Lawler and Brickhouse Brown have all passed away. Very sad day for pro wrestling.

— Dave Meltzer (@davemeltzerWON) July 29, 2018
We explained Nikolai's situation above, now we'll explain Brian's and Brickhouse's stories.
Brian was recently arrested for DUI and allegedly running from cops.
Below is what TMZ reported:
"Cops spotted the 46-year-old pro wrestler speeding and swerving around 1 AM on July 7.
Cops attempted to pull him over, but Lawler failed to stop — because, according to police, he was trying to make it home.
Once Lawler finally stopped, cops say he reeked of booze and had an open 12 ounce can in his center console. So, they arrested him on the spot."
Bail was set at $40,000. Below is his mugshot: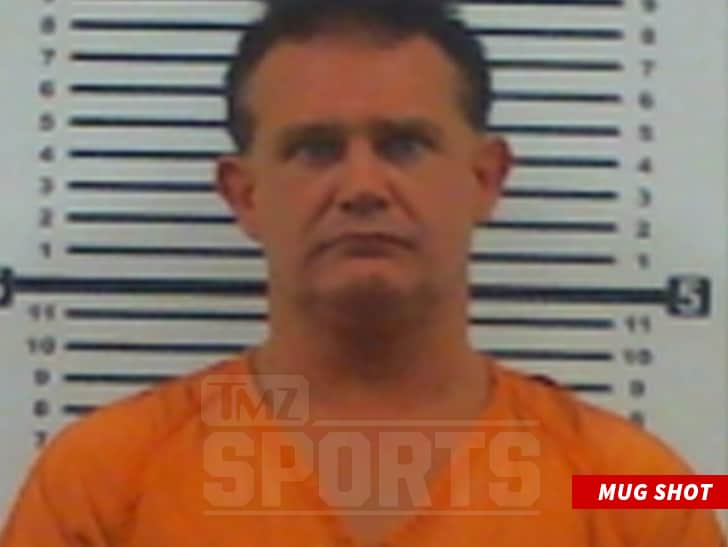 This arrest comes just one month after he was arrested for not paying a hotel's bill.
Below is our original report of his arrest from last month:
Former WWF wrestler Brian Christopher (Grandmaster Sexay of Too Cool) has been arrested for theft of services of less than $1000. He has a hearing today. He's the son of WWE Hall of Famer Jerry "The King" Lawler.
You can check out his mugshot below: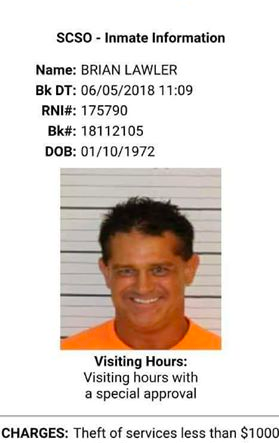 We noted back in March that Brian was beaten up badly by Jonathan Ryan Clark (a.k.a. Chase Stevens) in Stevens' hotel room.
Brian (age 46) suffered the following injuries:
– Fractured skull
– Broken nose
– Broken orbital bone
– Teeth knocked out
Police found Brian intoxicated in the hotel lobby and arrested Stevens and charged with "Battery – Serious Bodily Injury."
Brian could've suffered even more injuries had the hotel employees not interfered. Stevens worked an indy show in Clarksville, TN the following weekend and is a former Golden Gloves Boxing Champion.
Below is the booking photo of Stevens and photo of a badly injured Brian Christopher (credit to Wrestlinginc):
— World Wrestling News (@WWENewsMafia) March 16, 2018
— World Wrestling News (@WWENewsMafia) March 16, 2018
If you don't remember Brian in the World Wrestling Federation, you can watch a couple of videos below:
Regarding Brickhouse Brown, Old School WWF Veteran Brian Blair originally announced on Twitter that Brickhouse Brown has passed away.
Below is the tweet from Blair:
So sad to report the passing of Brickhouse Brown today. Unfortunately when he found out that he had stage 2 prostate cancer, had no insurance, so was only being treated with pain meds. When the @CACReunion was asked, we were there. We need more awareness as 2 CAC's mission. ?

— B Brian Blair ?? (@Killerbee1B) July 20, 2018
However, miracles do happen in this would. Brian Blair then later revealed in a tweet that Brickhouse Brown is still alive!
Thank you so much George, but stop the tape. Brickhouse is Mother Victoria just called me to inform me that Brick was still alive and woke up, somehow, last night and said he was hungry. Stay tuned as this is not over, unbelievable! I'll write what happened on my Facebook page. https://t.co/72FRdXW03r

— B Brian Blair ?? (@Killerbee1B) July 21, 2018
Blair then explained the whole situation on his Facebook account in a post and you can read it below:
"Hello my friends!
Brick was dead but now he's alive! Let me explain:
Got a call from Reggie B. Fine (one of Brick's best friends) yesterday morning when he told me that Brick's Biological Mother, Victoria Timmons, called him in tears and said "We just lost Fredrick" (Fredrick Seawright is Brick's real name), then she asked Reggie to call me, KoKo B Ware and a couple others…about an hour later Ms. Timmons called me to say that she appreciated everything that Ya'll (being the CAC) did for Brick and was crying…neither on of us could speak very much so we ended the call, both very upset.
I get a call last night from Victoria (Ms. Timmons) and she said that Brick was alive…I said WHAT? She then told me that when Brick's eye's were rolled back in his head with his mouth open and was lifeless…the Preacher came in (Hospice facility) and that they prayed…and she refused to leave until the Coroner got there and was done…about 30 minutes later she was sitting next to him with her eyes closed…exhausted after being up most of the past three days…and all of the sudden she heard "Mama, I'm Hungry"…her and the Hospice lady could not believe it and they hurried up and got him some chipped ice, as he had not eaten for almost 3 days…they wound up giving him some liquid food…she said that was the most he had eaten in almost two weeks at one time, although it took about 30 minutes for him to eat and be full…She said it is a "Miracle from God" and I believe her.
Got a call from Reggie B. fine early this morning to tell me the same story…this is amazing and as accurate as the words that I just said…don't know what will happen from here as it is in God's hands, but it's nothing short of a miracle, as far as I am concerned…so happy that I may be able to see him this Wednesday on the way to Iowa…changing my ticket back again to go through Jackson, MS.
On my way to meet some people, but will see your responses when I get back tonight.
Thank you all and God Bless,
Brian"
In April of last year, Brown was diagnosed with stage four prostate cancer. Two months ago, Brown revealed that the cancer has spread to his brain and it has impaired his eyesight. It also resulted in his weight getting reduced by about 100 lbs.
Brown performed for various promotions such as the AWA, USWA, and the CWA. Below are some of the Titles that he won:
– 1x WCWA Texas Heavyweight Championship
– 1x NWA Mississippi Heavyweight Championship
– 1x NWA Mid-South Unified Heavyweight Championship
– 1x NWA Southeastern Tag Team Championship
– 1x USWA Television Championship
– 3x USWA World Tag Team Championship
You can check out videos of him below:
But now, he is no more.
RIP Brickhouse Brown
Announcement: We have launched our 'WrestleFeed' App on both Android & iOS. We're trying to create Wrestling's own Social Media with it. Apart from all the wrestling news, videos & other updates on the app, we're also going to do a 'Wrestling Quiz' every week before Monday Night RAW. The winner of that Quiz will win $100.
Please download our app now! Below are the download links:
Android – http://bit.ly/2IVQ3yU
iOS – https://apple.co/2Oido0R