The wheel is always turning at the WWE and as such, superstars will continue to come and go for many years to come. Some move on to pastures new meanwhile others hang up pro wrestling altogether, but either way, there's no denying that we're in for some big changes as we move into 2020.
With All Elite Wrestling making its way in the pro wrestling world as a rival of the WWE this year, the rumors of several wrestlers heading there have been going around all year round. Jon Moxley (f.k.a Dean Ambrose in WWE) is one of the top names who jumped ship from WWE to AEW this year.
It's a fact that WWE has been on a rollercoaster ride this year with all the ups and downs in the way they've been producing shows. Some superstars are satisfied with how they're being used, while some feel that they'll be better utilised outside of WWE.
In this article, let's take a look at 5 wrestlers who could leave WWE by 2020.
5. The Revival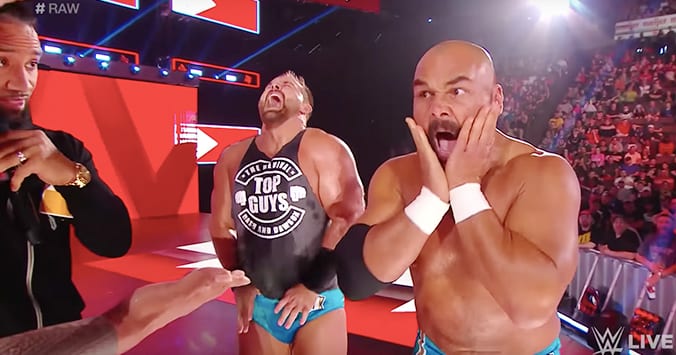 The 'Top Guys' are one of the teams who changed the landscape of tag team wrestling in this new era of pro wrestling. With their old school type of skills, they are favourite to many. Their heel character just adds more power to their abilities in the ring.
WWE poorly booked them throughout 2018, but things changed for them in 2019. There were rumors of Dash and Dawson leaving the company this year but they didn't leave, instead they won the RAW Tag Team Championship back in February.
When AEW opened up, Scott Dawson tweeted he'd be seeing Arn Anderson soon, leading to rumors of a move to AEW. The rumors died when Dawson and Wilder were being pushed alongside Shane McMahon, but they keep reviving after every few months.
The Revival lost the SmackDown Tag Team Championship to The New Day in their first defense this past Friday on SmackDown, which has reignited the speculation of their move to AEW.
They have reportedly turned down the offer of extending their contract with WWE which ends in April 2020. It looks like they'll leave the company next year unless WWE brings a huge offer to the table.
*Go to the NEXT page to continue reading this article