• Booker T Comments On Rumors Of Him Having A Match At WrestleMania 37
At Royal Rumble 2021, two time WWE Hall of Famer Booker T appeared on the stage along with Bad Bunny. Bad Bunny then performed his new song "Booker T".
Later during the show, The Miz and John Morrison tried to turn Bad Bunny on Booker T by saying that Booker T is a "has been". Booker T was standing right behind them and heard everything.
This began rumors that Booker T & Bad Bunny will team up to take on The Miz & John Morrison at WrestleMania 37 (another rumor is that instead of Booker T, it will be Damian Priest).
Booker T said the following about this rumor on his Hall Of Fame podcast:
"While I can say that it is 100% – I think it came from [Dave] Meltzer – I think it is 100% a rumor. No one has talked to me about it as far as having a match at WrestleMania. No one has talked to me about tag teaming with Bad Bunny to go against anyone.
As far as this thing, it's a rumor, guys. I'm not going to be at WrestleMania in any capacity other than being behind the desk as of right now. Always, though, 'card subject to change' in professional wrestling. And the thing is, if there's an outside chance of me walking the aisle at WrestleMania, I would take it."
On the stage or from the top rope. Massive respect to @sanbenito for his performance at the #RoyalRumble and a shout-out to @BookerT5x for looking ready another in-ring run!!! #CanYouDigThat #BookerT @wwe pic.twitter.com/OhTvc5fm1l

— Triple H (@TripleH) February 2, 2021
Booker T recently said on his podcast that he wants a WrestleMania 19 rematch against Triple H at a Saudi Arabia pay-per-view, where he'll be paid big money while picking up a win over The Game.
Booker T made it clear once again that circumstances will need to be right if he returns for one more match in WWE:
"And I talked about it very, very clearly – vividly – here on this show that I am willing to have a match, but it has to be right. Circumstances has to be right. I don't want to be jumping in the ring just to be jumping in the ring.
I said that Saudi Arabia would be a great time for me to come back and do something. People out there in Saudi still watching old people, still think I'm current [laughs]."
Also Read: Major Update Regarding WrestleMania 37's Look
WATCH: Mickie James Kisses Trish Stratus:
You can download our official WrestleFeed mobile app to check out more Wrestling news & Divas content. Tap here to download.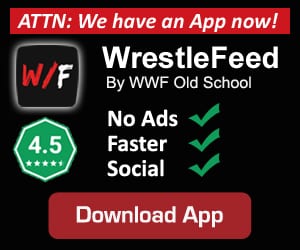 • Old School Wrestling Veteran Would Have Celebrated His Birthday
Today would have been the 50th birthday of Old School WWF Veteran Louie Spicolli (Real name: Louis Mucciolo Jr.).
Spicolli wrestled for all the big 3 promotions of the 90s … after doing televised jobs for the company for years, he joined the World Wrestling Federation full-time as Rad Radford (1995-1996), before working for Paul Heyman's Extreme Championship Wrestling (1996-1997) and eventually joining Ted Turner's World Championship Wrestling in 1997.
Louie was scheduled to wrestle Larry Zbyszko at the WCW SuperBrawl VIII PPV, but that match never happened, because Spicolli passed away from a drug overdose one week before the event.
HAPPY BIRTHDAY & † REST IN PEACE
February 10, 1971 – February 15, 1998