Bray Wyatt's Death has shocked the world of Professional Wrestling
Former WWE Champion Bray Wyatt unfortunately passed away at the age of 36 earlier today.
The news left everyone in a shock. Below are reactions from multiple notable personalities in the pro wrestling world to Wyatt's death:
Matt Hardy (who held the RAW Tag Team Championship with Wyatt in 2018) tweeted:
"Absolutely shattered to learn that my friend, Windham Rotunda, has passed away. It's devastating to think he left us at only 36 years young. My condolences go out to his family, wife & children. I'm so sorry, my compeer. Miss you already."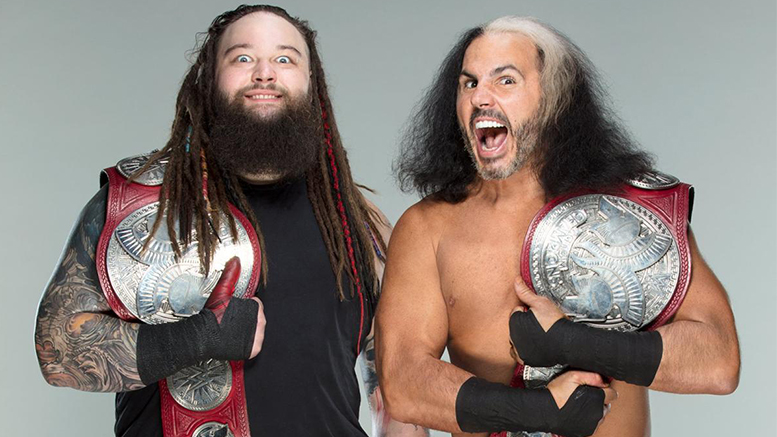 UPDATE: Cause Of Bray Wyatt's Death Released
The Rock tweeted:
"I'm heartbroken over the news of Bray Wyatt's passing. Always had tremendous respect and love for him and the Rotunda family. Loved his presence, promos, in ring work and connection with WWE universe.
Very unique, cool and rare character, which is hard to create in our crazy world of pro wrestling. Still processing losing the goat, Terry Funk yesterday and now Bray today.
My love, light, strength & mana to the Rotunda family and Funk family during this tough, heartbreaking time.
#ohana"
Alexa Bliss tweeted:
"Just in shock. Really at a loss for words at the moment"
Amanda Huber tweeted:
"I have no words.
I'm devastated.
💔🐊"
Big E tweeted:
"Man…the first dude that took me under his wing when I got signed in 2009. We spent so much of our adult lives together. Praying for Jojo. Praying for his kids. I will miss your laugh & your boyish charm, my friend. Goodbye, Windham."
Baron Corbin tweeted:
"I'm trying to process this and can't
Windham was a friend
I feel for his wife, his beautiful children, his parents, his brother, his sister and everyone else who knew what a incredible person he was."
William Regal tweeted:
"Devastated to hear of the passing of Windham Rotunda, Bray Wyatt. My deepest condolences to Mike, Bo, Barry and all his family. Rest well my friend.x"
Damian Priest tweeted:
"Horrible! Lost a good soul today. #RIPBray" 🙏
Rhea Ripley tweeted:
"Lost for words. 💔 RIP"
DIJAK tweeted:
"Bray Wyatt was such a lovely man to be around. He loved his family so much. I'm so sorry."
Saraya tweeted:
"I can't believe I'm typing this. But RIP Windham. I knew you day 1 of moving to America, you were the biggest sweetheart and were loved by everyone who met you. I'm in shock.. sending all my love to the Rotunda family."
Keith Lee tweeted:
"The toughest part of this industry… is when you bond with people…. and then that bond is severed unexpectedly. RIP brudda.
I was rooting for you just like you did for me. I already missed you… but this… it's painful. Safe journey my man."
Eric Bischoff tweeted:
"Thoughts and prayers are with the Rotunda family. Bray Wyatt left us far too soon."
Chelsea Green tweeted:
"What a horrible loss for his family, his friends, and the entire wrestling world. He was a creative genius and I will forever be influenced by his work.
🖤"
Victoria tweeted:
"So shocked and saddened to hear of Bray Wyatt's passing. This is so hard to process and I am just speechless. Sending my condolences to his family and friends during this difficult and heartbreaking time.
#RIPBrayWyatt #BrayWyatt #WWE #WindhamRotunda"
Johnny Gargano tweeted:
"I'm absolutely stunned. Bray was a once in a generation storyteller and just an amazing human being. He was always so incredibly kind and welcoming. My thoughts and prayers go out to his friends and family."
TJ Wilson tweeted:
"RIP Bray-
You will be very missed my friend. You always brought the locker room many many laughs. I'm grateful for so many special moments we shared at my ring this past year. I can't believe this. The world only saw a glimpse of your creativity. This loss is immeasurable."
Dustin Rhodes sent out 2 tweets:
"Horrible. So sad hearing the news of Bray. F**king terrible. I am praying for you Mike, Stephanie, Mika and Taylor. Love you guys. So sad. #RIPBray"
"Just no f**king words. I love you Bray. I was like an uncle to them boys. I hate f**king death."
Nikki Cross tweeted:
"My deepest condolences to his family, I'm so sorry.
Absolutely heartbreaking
There are no words.
I wish so much, with every fibre in my body, this wasn't true
My heart aches for his family"
Francie Kazarian tweeted:
"Rest in peace Windham Rotunda/Bray Wyatt. My god…I'm so sorry. My thoughts are with his family and children…..I have nothing else right now. Godspeed to you my friend."
Will Ospreay tweeted:
"Devastated
RIP Bray Wyatt"
Cedric Alexander tweeted:
"Every time I was able to share a locker room with Bray Wyatt was a pleasure. Always willing to give advice or just shoot the breeze and tell fun stories on the road.
My and family and I send out our prayers to the Rotunda family
Rest In Peace Wyndham
#BrayWyatt"
Sonya Deville tweeted:
"I'm at a loss for words….I'm grateful to have witnessed his greatness and been around his sweet spirits, always so nice and kind, and willing to help. My prayers to all his family 🙏🖤"
Tegan Nox tweeted:
"This is so sad! Windham was always an absolute gentleman with the sweetest heart! My thoughts go out to the Rotunda family 💜"
Top Dolla tweeted:
"I can't believe this… Bray Wyatt was the reason I came to @WrestleMania XXX in New Orleans… working with him in Montreal & feeling that crowd reaction is one of my greatest memories in life.
The world lost a true artist, a good man and a great father. #RIPBray 🙏🏽🕊️"
Jacy Jayne tweeted:
"NOOOOO💔"
Lance Storm tweeted:
"My condolences to his family and friends. RIP"
Sami Callihan tweeted:
"In disbelief.
He was always a stand up person, every time I've run into him. One of the most brilliant minds of our generation.
My deepest condolences to his family and loved ones.
RIP Bray Wyatt"
Big Damo tweeted:
"Absolutely gutted to hear this. Windham was the man, he was beyond welcoming to me and a joy to spend time with. Thoughts are with his family"
Jagger Reid tweeted:
https://t.co/3qp5BsTpHX pic.twitter.com/uX2yfEB4aY

— Jagger (@Jagger_WWE) August 24, 2023
Swerve Strickland tweeted:
🙏🏾🙏🏾🙏🏾❤️❤️❤️ pic.twitter.com/S5syXPohIA

— The Realest Swerve Strickland (@swerveconfident) August 24, 2023
Must Read: WWE Reveals Plan To Help Bray Wyatt's Family