Below are the top Pro-Wrestling news stories of the day:
• Update On Upcoming WWF Superfan Documentary
Earlier this year in April, WWE released a trailer for their upcoming documentary on WWF Superfan Vladimir, but as of now the documentary has yet to be released and many fans are wondering when the video will finally see the light of day.
Here's what PWInsider is reporting:
"There was talk WWE was trying to spin off their original docs for additional revenue by licensing them a third-party, potentially A&E, but there's been no word on that front and thus, the Vladimir doc (and other projects) sit in suspended animation.
Having seen the doc, I can tell you that if WWE doesn't change that strategy, they'll have to change the end of it whenever they do get around to putting it out, because as of January 1st, some of the ending will have been outdated."
Also, quite a lot of fans are waiting for the WWE Icons episode on Lex Luger, which was originally scheduled for July 4, 2021, but has been postponed without an official reason and no further update was announced since.
WATCH: Charlotte Flair's Knockers In Asuka's Face:
• "I think he is tailor-made for WWE" – Stephanie McMahon On Undefeated WWE Celebrity
During a recent interview with 'Mirror Fighting', Stephanie McMahon talked about undefeated Boxing Heavyweight Champion Tyson Fury and how well he fits into today's WWE.
Here's what The Billion Dollar Princess had to say:
"Tyson Fury, I feel, is made for WWE. He has all of the personality, all of the charisma, he's an incredible athlete with a tremendous look, he's a big man, lots of strength, power, speed and agility.
I think he is tailor-made for WWE and we'll see if and when he comes back."
Tyson Fury made the transition from the world of Boxing to Professional Wrestling, when he wrestled his first match at the Crown Jewel 2019 PPV in Saudi Arabia and defeated Braun Strowman by count-out, after he punched Strowman and Strowman fell out of the ring and couldn't recover in time.
WATCH: Stephanie McMahon Shakes Her Knockers:
• Former Champion Plans To Spill Gossip About Her WWE Release Soon
Former RAW Women's Champion Nia Jax, who got released from WWE last month, might never wrestle again.
Here's the latest update she posted about her pro-wrestling career on Twitter:
"Lol! 😂 Newflash..Lina is my real name. It's not another 'ring' name. It's just MY NAME, the name given to me at birth. Calm TF down trolls. In all fairness, 'Opponent Crippler' would be a SOLID front runner if I ever decide to wrestle again. 🤣 🙌🏽 but it's highly unlikely."
Nia then went on to note that she's going to "spill gossip" about her WWE departure on Renee Paquette's Oral Sessions podcast soon.
Here's what she tweeted:
"Lol don't worry, I'll be chatting (spilling gossip) with @ReneePaquette eventually."
Renee replied:
"The mics are hot baby!!!!"
Alexa Bliss, Nia's former WrestleMania opponent, then tweeted:
"Just don't tell our Jeep story! #SorryOurWindowIsBroken"
Nia replied:
"Lol!!! Everything is on the table Bliss, even the stuff that you're not supposed to talk about."
After she got fired, Nia issued the following statement:
"I usually keep my personal life private, but yesterday's reports leave me with no option but to clarify matters. I recently took a short leave of absence from WWE for a mental health break.
I've been working through so much — more than I can share — and so I took some time, the full support of the company, to take care of myself.
Earlier this week, after WWE sent me my schedule to return to the ring for the November 15 show, I asked for an extension to my mental health break, feeling that I needed more time and hoping I would have the ongoing support of the company I have given my all to for the past 7 years. I did not receive a response.
The next I heard, I was being released. My vaccination status was never mentioned. I wasn't given any choices or options.
It breaks my heart to be so abruptly let go, without consultation, while dealing with so much privately. I loved my career at WWE, I love the men and women I worked with, and I am going to need time to process this huge loss.
I appreciate those people who have shown understanding and compassion during an incredibly difficult time."
WATCH: Nia Jax Secretly Records Alexa Bliss' Fine Buns:
• Attitude Era Wrestler Returning To The Ring
WWF Attitude Era Veteran Scotty 2 Hotty recently announced on Instagram that he has asked for his release from WWE.
He was working as a coach in NXT. He issued a statement to explain this decision. You can read it below:
"Today, I have asked for my release from World Wrestling Entertainment.
30 Years ago I stepped into a WWE ring for the very first time. I have lived my dream 100 times over. Some of my most special memories will always be from the last 5 years working with NXT.
The black and gold brand was something special and I am proud to have been a small part of that. I always promised myself that I would never be part of something solely for the paycheck and that was where I was at.
I told myself that I would walk away if I ever got to that point, so that is what I have chosen to do.
Coaching and producing the stars of NXT will always be a highlight of my life. I love you all more than you will ever know. 🙏🏼 "
He is now scheduled to return to the ring for ISPW Valentine's Vengeance event on February 18, 2022.
Scotty's last match took place over 5 years ago, in November 2016, and it took place on the indy scene. He is 48 years old.
WATCH: Super Busty Trish Stratus:
• RAW Wrestler's Wife Leaves AEW, Explains Why
AEW Women's Division wrestler Big Swole (wife of WWE RAW wrestler Cedric Alexander) has decided not to renew her contract with All Elite Wrestling.
She posted a statement to explain her decision, which you can read below:
"Over the past couple of months my life has taken on the mantra grow, learn, change. Dealing with shadow work took strength I didn't know I had. I thank God for my loving family because they got me through some of the roughest months of my life. But I realized the real test is application.
So I took my leap and after speaking with TK and AEW higher officials we've decided not to renew my contract with All Elite Wrestling. This was a hard decision but a needed one.
I am grateful for their understanding and that we could mutually come to this agreement. I've enjoyed my time with AEW and wish them all the best. I appreciate their love and welcoming me into the family.
Today is my last day and as bittersweet as it is, I am proud to say that I've lived my dreams while making a difference. That is Swole Mentality."
If you have never seen her work in AEW, you can watch a segment featuring her and Britt Baker below:
Also Read: AEW Wrestler Is No Longer Married
WATCH: Tay Conti Has The Best Tushy In AEW:
• Trish Stratus' WWE Return Announced
The legendary Trish Stratus will be returning to WWE for one night only, on December 29th at a WWE Live Event in Toronto.
Below is what she posted on her website:
See Trish Stratus during WWE's live holiday tour in Toronto
"Trish Stratus is ready to serve some holiday Stratusfaction to the WWE Universe in Toronto.
The Hall of Famer returns for one night only to host WWE's live event on Wednesday, December 29th at the Coca-Cola Coliseum.
'Excited to step through that curtain and feel the energy of the WWE Universe one more time. Let's do this Toronto!'
Tickets and Superstar Experiences are on sale now!"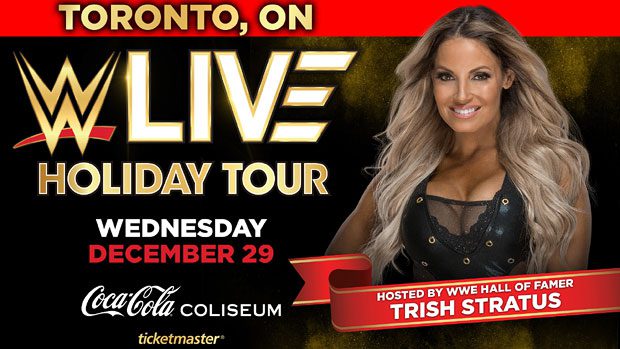 Trish's final WWE match took place at SummerSlam 2019, where she lost to Charlotte Flair.
Also Check Out: Trish Stratus Provides Stratusfaction By Stripping In The Ring (Video)
WATCH: Trish Stratus Got Exposed Twice During Her WWF/E Days:
• Reason Behind Kevin Owens Being Added To The WWE Title Match At The Day 1 PPV (Spoiler)
Seth Rollins kicked off this week's RAW by announcing that he will face Big E for the WWE Championship on January 1, 2022 at the WWE Day 1 pay-per-view.
However, later in the night, Kevin Owens told Rollins that WWE Official Adam Pearce informed him that he will get added to the WWE Championship match if he beats Big E.
In the main event of the show, Owens defeated Big E via DQ after Rollins attacked him.
It'll now be Big E vs. Seth Rollins vs. Kevin Owens for the WWE Championship at the Day 1 PPV.
According to the Wrestling Observer, Owens was added to this match so he can take the pin and the Big E – Rollins feud can continue, with a singles match being saved for another PPV:
"This allows them to stretch the feud out between Big E and Seth Rollins, because Kevin Owens can get pinned and they can keep the feud going. Because on that side, as long as Big E is a babyface champion it's gonna be tough to put Edge in there.
I mean, who is there other than Seth Rollins and Kevin Owens, and Kevin Owens we don't know how long Kevin Owens is gonna be there. His contract is coming up at the end of January after the Royal Rumble, and then he'll have a decision to make."
WATCH: Stephanie McMahon's Bouncy Knockers:
🔥
• Recently Released WWE Wrestler Announces When She's Launching Her OnlyFans Page
Scarlett (Karrion Kross' girlfriend and valet in NXT) got released from WWE earlier this month and she has a 30 days non-compete clause. After that, she's free to do whatever she wants.
Speaking of doing whatever she wants to do, she wants to go Old School and do a Bra & Panties match.
Here's what she wrote on Twitter:
"Time to fulfil my wrestling dream of having a hardcore bra and panties match… 🤣
But seriously someone book it!"
Impact Wrestling's Digital Media Champion Jordynne Grace replied the following:
"Can it be against me?
cc: @GCWrestling_"
Scarlett then asked the fans if they'd like to see her and Jordynne in a Hardcore Bra & Panties match in Game Changer Wrestling:
"Hmmmmm…would you guys like to see this in @GCWrestling_?"
Scarlett later also teased the idea of starting an OnlyFans page, and she's actually going to start it.
She has now announced that she'll be on OnlyFans in January 2022.
I think it's going to be a January Only Fans launch… 🚀😈

— Scarlett Bordeaux (@Lady_Scarlett13) November 30, 2021
WATCH: Scarlett Bordeaux Shows Off Her Super Sexy Buns:
ALSO WATCH: Killer Kross Grabs Scarlett's Knockers At RVD's Wedding:
• The Undertaker Changes His Mount Rushmore Of Wrestling
During a recent appearance on Kevin Hart's Cold As Balls, WWF/E Legend The Undertaker was asked who's on his Mount Rushmore of Wrestling.
Here's what The Phenom said:
"Andre. Stone Cold. Rock. And I'm going to go with Shawn Michaels."
This is quite a different answer from what Undertaker gave in 2020, during an interview with ComicBook.
Here's what he said about his Mount Rushmore of Wrestling last year:
"You got to have [Ric] Flair. You got to have [Hulk] Hogan. Stone Cold [Steve Austin]. That fourth one's tough.
It could be Harley [Race]. It could be Dusty [Rhodes]. It could be Bruno [Sammartino]. And I base that on contributions to the business.
Not so much if they were a great worker or this or that, but… Oh, I know my fourth, it's Andre [The Giant]. I don't know why I forgot Andre. So yeah, it would probably be Flair, Hogan, Stone Cold and Andre."
Taker also commented on his retirement from in-ring competition:
"In my mind, I wanted to do it and in my heart, I still wanted to do it. But I realized, my body couldn't do what it used to do. The injuries, I couldn't even put a number on.
The surgeries, I've had upwards of 17/18 surgeries. Everybody feels like they've got to give that disclaimer right away, you know, 'that sh*t's not real is it?' Well, it's real enough to cause 17 surgeries.
People don't realize that within the course of a match, you're only a couple of inches away at any given time from something really catastrophic. Those two inches are a really great night or a really bad night."
WATCH: Michelle McCool's (The Undertaker's Wife) Exposing Video: