Old School Wrestling Veteran Chick Donovan was once a respected mid-carder in several territories during the 70s & 80s, including the American Wrestling Association (AWA), Memphis Wrestling (Continental Wrestling Association), among several NWA promotions.
He eventually ended up working as an enhancement talent for the World Wrestling Federation on a few occasions in 1987 & 1988, before becoming a regular Job-guy for Ted Turner's World Championship Wrestling from October 1992 until June 1995.
After those stints (and 2 more jobs on WWF TV in 1995), Donovan went on the wrestle on the independent scene and has yet to officially retire from professional wrestling.
His grandson Bryce Donovan took to Twitter and posted a recent photo of his grandfather with the following text:
"So proud of my Grandfather still getting it done at age 76
When I was a small child listening to his stories about wrestling Jerry Lawler in AWA, he would look at me and say 'I know one day you'll grow up to become Create A Pro Champion.'
He was right!
The legend Chic Donovan!"
So proud of my Grandfather still getting it done at age 76

When I was a small child listening to his stories about wrestling Jerry Lawler in AWA, he would look at me and say "I know one day you'll grow up to become Create A Pro Champion."

He was right!

The legend Chic Donovan! pic.twitter.com/Itkyuy5pgC

— Bryce Donovan (@BryceDShook) May 16, 2023
Here's a picture of Chic Donovan from back in the day: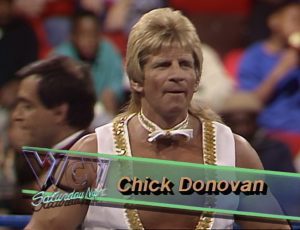 WATCH: Nikkita Lyons Exposes Her Buns In A Pool: