Below are the top Pro-Wrestling news stories of the day:
• WWE Hall Of Famer Says Becky Lynch Is Doing What's Written In "How To Be A Heel For Dummies"
On Busted Open Radio, WWE Hall Of Famer Bubba Ray Dudley talked about RAW Women's Champion Becky Lynch's current heel character on WWE programming.
Bubba thinks Becky is playing 'heel 101' and it doesn't suit her. Here's what he said:
"It is basically an old school heel. It is heel 101. However, heel 101 does not really work with Becky. She is trying to portray a heel. And you brought up the facial expressions.
Especially at the end of the match, she is laying out on the floor, and she is making the typical bitter bear face, 'Give me my belt, give me my championship,' I was like, 'That is pretty much as old school as that gets.'
If you have read 'How To Be A Heel For Dummies,' which I have read twice. What Becky is doing is on the first couple of pages, and we know that's not really her.
But, at the end of the day, they are getting the desired reaction from you, that they are looking for, which is you want to see Liv Morgan beat up and defeat Becky Lynch.
So, they look at it as this – No matter how we are getting there with you, no matter how we are touching you emotionally, we are still doing it so we win."
On this week's RAW, Team Liv defeated Team Becky in a 5-on-5 tag team match.
Becky will defend her RAW Women's Title against Liv on next week's RAW.
WATCH: Becky Lynch Exposed At Survivor Series 2021:
• Ric Flair Takes A Shot At Seth Rollins Getting Taking Down By A Fan
During the latest episode of his podcast, 2-time WWE Hall Of Famer Ric Flair discussed the recent attack on Seth Rollins.
Ric implied that Seth isn't tough and that a fan wouldn't succeed in taking down his daughter, current SmackDown Women's Champion Charlotte Flair.
Here's what The Nature Boy said:
"Second-generation kids are taught to be tough. Roman Reigns, The Usos, that's why I'm such a fan of kids that had to really be tough to just survive in life.
If you've been a real athlete and really competed at a top-level, you're tough. You're mentally tough. You're physically tough. You are honed and trained to be — I mean, if that same thing had happened to Ashley, hypothetically, I don't know if that guy could have taken Ashley down. She's tough, man.
You don't think Tamina's tough, or Nia Jax, or, Nattie Neidhart, are you kidding me? They come up in families where you had to be tough."
Also Read: "It's terrifying" – Seth Rollins Comments On Getting Attacked By A Fan On RAW
WATCH: Charlotte Flair Accidentally Exposed By Lana:
• Red Notice Makes History, The Rock Comments
The Rock's latest movie, Red Notice, has made history by becoming the most watched movie ever on Netflix.
Netflix revealed that Red Notice brought in 328.8 million viewing hours, surpassing Sandra Bullock's 'Bird Box' from 2018, which brought in 282 million viewing hours.
Here's what Dwayne Johnson wrote about this achievement on Instagram:
"Holy sh*t 🤯
Breakin' out the @teremana 💯🥃🥃
RED NOTICE is now the most watched film in @netflix history, officially making it the #1 ALL TIME MOVIE in streaming.
Previous record held by BIRD BOX in 2018 with 282 million hours viewed.
With still 11 days to go, RED NOTICE has been viewed for a staggering 328 MILLION HOURS.
With an INCREDIBLE 92% GLOBAL AUDIENCE SCORE!! 🤯🌎🍿🍿🍿
And we have almost two weeks left of our global run to tally up these extraordinary and ground breaking metrics.
Love U guys and THANK YOU!!! 🙏🏾"
Also Read: "The Rock was bringing $60,000 a night in merch sales" – Former WWE Wrestler
WATCH: Charlotte Flair Grabs Bayley's Buns:
🔥
• Update On Upcoming WWF Superfan Documentary
Earlier this year in April, WWE released a trailer for their upcoming documentary on WWF Superfan Vladimir, but as of now the documentary has yet to be released and many fans are wondering when the video will finally see the light of day.
Here's what PWInsider is reporting:
"There was talk WWE was trying to spin off their original docs for additional revenue by licensing them a third-party, potentially A&E, but there's been no word on that front and thus, the Vladimir doc (and other projects) sit in suspended animation.
Having seen the doc, I can tell you that if WWE doesn't change that strategy, they'll have to change the end of it whenever they do get around to putting it out, because as of January 1st, some of the ending will have been outdated."
Also, quite a lot of fans are waiting for the WWE Icons episode on Lex Luger, which was originally scheduled for July 4, 2021, but has been postponed without an official reason and no further update was announced since.
WATCH: Charlotte Flair's Knockers In Asuka's Face:
• "I think he is tailor-made for WWE" – Stephanie McMahon On Undefeated WWE Celebrity
During a recent interview with 'Mirror Fighting', Stephanie McMahon talked about undefeated Boxing Heavyweight Champion Tyson Fury and how well he fits into today's WWE.
Here's what The Billion Dollar Princess had to say:
"Tyson Fury, I feel, is made for WWE. He has all of the personality, all of the charisma, he's an incredible athlete with a tremendous look, he's a big man, lots of strength, power, speed and agility.
I think he is tailor-made for WWE and we'll see if and when he comes back."
Tyson Fury made the transition from the world of Boxing to Professional Wrestling, when he wrestled his first match at the Crown Jewel 2019 PPV in Saudi Arabia and defeated Braun Strowman by count-out, after he punched Strowman and Strowman fell out of the ring and couldn't recover in time.
WATCH: Stephanie McMahon Shakes Her Knockers:
• Former Champion Plans To Spill Gossip About Her WWE Release Soon
Former RAW Women's Champion Nia Jax, who got released from WWE last month, might never wrestle again.
Here's the latest update she posted about her pro-wrestling career on Twitter:
"Lol! 😂 Newflash..Lina is my real name. It's not another 'ring' name. It's just MY NAME, the name given to me at birth. Calm TF down trolls. In all fairness, 'Opponent Crippler' would be a SOLID front runner if I ever decide to wrestle again. 🤣 🙌🏽 but it's highly unlikely."
Nia then went on to note that she's going to "spill gossip" about her WWE departure on Renee Paquette's Oral Sessions podcast soon.
Here's what she tweeted:
"Lol don't worry, I'll be chatting (spilling gossip) with @ReneePaquette eventually."
Renee replied:
"The mics are hot baby!!!!"
Alexa Bliss, Nia's former WrestleMania opponent, then tweeted:
"Just don't tell our Jeep story! #SorryOurWindowIsBroken"
Nia replied:
"Lol!!! Everything is on the table Bliss, even the stuff that you're not supposed to talk about."
After she got fired, Nia issued the following statement:
"I usually keep my personal life private, but yesterday's reports leave me with no option but to clarify matters. I recently took a short leave of absence from WWE for a mental health break.
I've been working through so much — more than I can share — and so I took some time, the full support of the company, to take care of myself.
Earlier this week, after WWE sent me my schedule to return to the ring for the November 15 show, I asked for an extension to my mental health break, feeling that I needed more time and hoping I would have the ongoing support of the company I have given my all to for the past 7 years. I did not receive a response.
The next I heard, I was being released. My vaccination status was never mentioned. I wasn't given any choices or options.
It breaks my heart to be so abruptly let go, without consultation, while dealing with so much privately. I loved my career at WWE, I love the men and women I worked with, and I am going to need time to process this huge loss.
I appreciate those people who have shown understanding and compassion during an incredibly difficult time."
WATCH: Nia Jax Secretly Records Alexa Bliss' Fine Buns:
• Attitude Era Wrestler Returning To The Ring
WWF Attitude Era Veteran Scotty 2 Hotty recently announced on Instagram that he has asked for his release from WWE.
He was working as a coach in NXT. He issued a statement to explain this decision. You can read it below:
"Today, I have asked for my release from World Wrestling Entertainment.
30 Years ago I stepped into a WWE ring for the very first time. I have lived my dream 100 times over. Some of my most special memories will always be from the last 5 years working with NXT.
The black and gold brand was something special and I am proud to have been a small part of that. I always promised myself that I would never be part of something solely for the paycheck and that was where I was at.
I told myself that I would walk away if I ever got to that point, so that is what I have chosen to do.
Coaching and producing the stars of NXT will always be a highlight of my life. I love you all more than you will ever know. 🙏🏼 "
He is now scheduled to return to the ring for ISPW Valentine's Vengeance event on February 18, 2022.
Scotty's last match took place over 5 years ago, in November 2016, and it took place on the indy scene. He is 48 years old.
WATCH: Super Busty Trish Stratus:
• RAW Wrestler's Wife Leaves AEW, Explains Why
AEW Women's Division wrestler Big Swole (wife of WWE RAW wrestler Cedric Alexander) has decided not to renew her contract with All Elite Wrestling.
She posted a statement to explain her decision, which you can read below:
"Over the past couple of months my life has taken on the mantra grow, learn, change. Dealing with shadow work took strength I didn't know I had. I thank God for my loving family because they got me through some of the roughest months of my life. But I realized the real test is application.
So I took my leap and after speaking with TK and AEW higher officials we've decided not to renew my contract with All Elite Wrestling. This was a hard decision but a needed one.
I am grateful for their understanding and that we could mutually come to this agreement. I've enjoyed my time with AEW and wish them all the best. I appreciate their love and welcoming me into the family.
Today is my last day and as bittersweet as it is, I am proud to say that I've lived my dreams while making a difference. That is Swole Mentality."
If you have never seen her work in AEW, you can watch a segment featuring her and Britt Baker below:
Also Read: AEW Wrestler Is No Longer Married
WATCH: Tay Conti Has The Best Tushy In AEW:
• Trish Stratus' WWE Return Announced
The legendary Trish Stratus will be returning to WWE for one night only, on December 29th at a WWE Live Event in Toronto.
Below is what she posted on her website:
See Trish Stratus during WWE's live holiday tour in Toronto
"Trish Stratus is ready to serve some holiday Stratusfaction to the WWE Universe in Toronto.
The Hall of Famer returns for one night only to host WWE's live event on Wednesday, December 29th at the Coca-Cola Coliseum.
'Excited to step through that curtain and feel the energy of the WWE Universe one more time. Let's do this Toronto!'
Tickets and Superstar Experiences are on sale now!"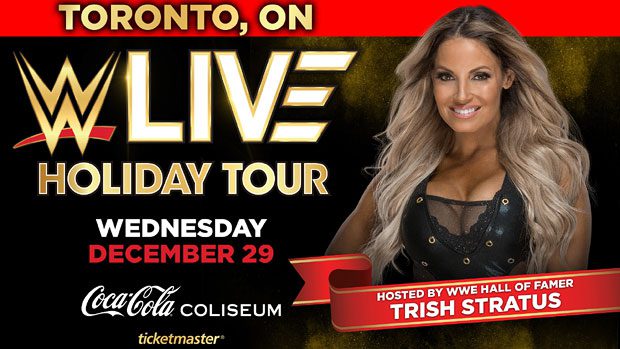 Trish's final WWE match took place at SummerSlam 2019, where she lost to Charlotte Flair.
Also Check Out: Trish Stratus Provides Stratusfaction By Stripping In The Ring (Video)
WATCH: Trish Stratus Got Exposed Twice During Her WWF/E Days: