The Undertaker has been entertaining generations of wrestling fans for three decades, with his supernatural gimmick. His in-ring and promo skills have always captured the attention of fans. He is one of the most legendary characters ever produced by the WWE.
The WWE Universe thought that The Phenom retired after losing to Roman Reigns at WrestleMania 33 in 2017, but he keeps appearing occasionally in the squared circle.
The Undertaker defeated Goldberg at WWE Super ShowDown in Saudi Arabia earlier this month. Fans did not expect to see The Phenom for a long time after the match, but he popped out of nowhere this past Monday night on RAW to save Roman Reigns from the assault of Shane McMahon and Drew McIntyre.
There is a high possibility that Undertaker will be competing at SummerSlam this year, because WWE is pulling every trick in their bag to improve the product. In this article, we will take a look at 5 opponents for The Undertaker at the biggest party of the summer. So let's begin.
5. Goldberg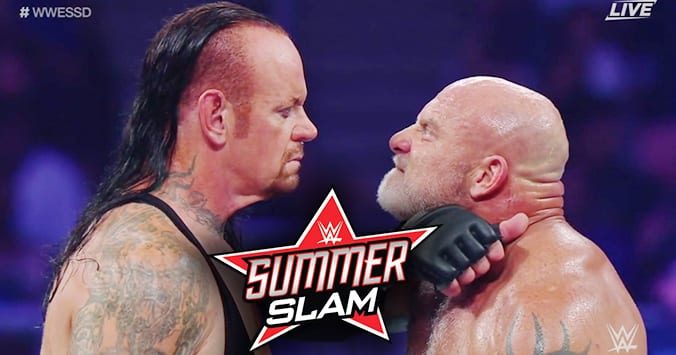 WWE might be planning a Goldberg vs. Undertaker rematch at SummerSlam after their last bout at Super ShowDown. The two might be looking to make up for their match at Super ShowDown (which didn't go according to plan).
Goldberg's WWE future is still uncertain, but The Undertaker returned during Monday's RAW to insert himself into the Roman Reigns vs. Shane McMahon feud. The match seems unlikely, but it could still happen as WWE was planning to do 3 Undertaker vs. Goldberg matches this year! (Tap here to know more).
*Go to the NEXT page to continue reading this article