2019 has seen some of the most surprising returns in the WWE. One of them was announced last week which was rumored over the past few months.
On last week's episode of WWE Backstage on FS1, it was revealed that former Intercontinental Champion John Morrison has signed a multi-year deal with WWE and will be making his return to the company soon.
Confirmed ✅ I have signed with @WWE – I've never been as good at anything as I am at wrestling & I can't wait to stand again in a #WWE ring opposite the most talented people in the business‼️

— John Morrison (@TheRealMorrison) December 4, 2019
Since leaving WWE in 2011, Morrison wrestled in different promotions including Impact Wrestling and Lucha Underground, which has made him a bigger deal than he was back in 2011.
It is still unknown which brand he will be joining. Morrison looks in great shape and can put on some of the most intriguing feuds heading into the WrestleMania season next year if given the chance.
In this article, let's take a look at 5 potential opponents for John Morrison in his return to WWE.
5. Sheamus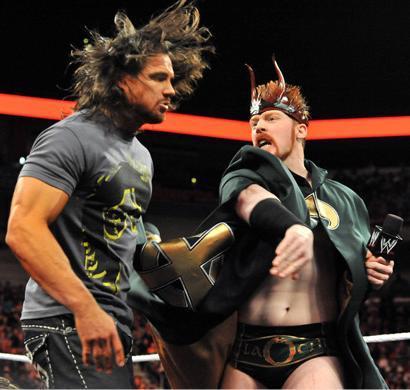 Just a few days after "The Celtic Warrior" Sheamus announced his return to SmackDown, John Morrison also confirmed that he would be making his return to the WWE after 8 years.
The announcement of Morrison's return overshadowed the hype Sheamus had created just a few days before. This could lead to Sheamus confronting Morrison on his return to reignite their old rivalry.
The Guru Of Greatness going head-to-head with Sheamus would be the perfect return rivalry for him. They have solid chemistry between them with some great face-offs in the past in matches like the King Of The Ring and TLC.
On the other hand, Sheamus would find someone he's familiar with to compete in the ring with after such a long time. Another match between the two after almost a decade would be great storytelling.
*Go to the NEXT page to continue reading this article